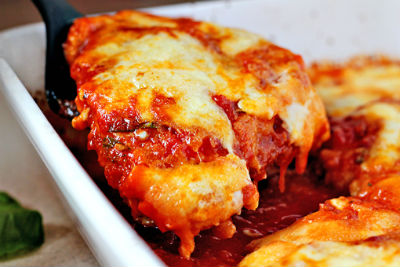 Ingredients:
Chicken – 450 gms, boneless, skinless, cubed
Parmesan Cheese – 2 1/2 tblsp, grated
Bread Crumbs – 1/2 cup
Butter – 1/4 cup, unsalted, melted
Garlic – 1 small clove, minced
Black Pepper Powder – a pinch
Garlic Salt – a pinch
Tomato Sauce – 1/2 cup (optional)
Method:
1. Mix the garlic, tomato sauce (if using) with butter and keep aside.
2. In another bowl, mix the cheese, garlic salt, pepper powder and breadcrumbs.
3. Dip the chicken pieces into the butter and then roll them in the breadcrumb mixture.
4. Transfer the chicken pieces to a greased baking dish and drizzle with any remaining garlic butter.
5. Place the dish into a preheated oven at 450F.
6. Bake for 15 minutes or until the chicken is cooked.
7. Remove and serve.
image credit: zoomyummy.com