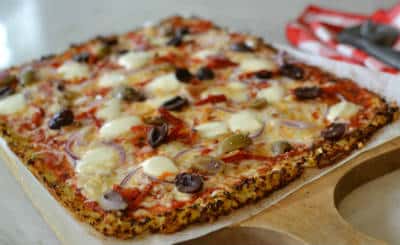 Ingredients:
Cauliflower – 1, small, trimmed, very finely chopped
Extra-Virgin Olive Oil – 1/2 tblsp + 1/2 tsp
Lemon – 1, small, chopped, segmented, juice extracted
Sun-dried Tomatoes – 3 to 4
Black Olives – 2 tblsp, pitted, sliced
Egg – 1, lightly beaten
Mozzarella Cheese – 1/2 cup, shredded
Oregano – 1/4 tsp, dried
Black Pepper Powder as per taste
Basil Leaves – handful, chopped
Readymade Pizza Base
Method:
1. Heat 1/2 tblsp oil in a non-stick pan over medium flame.
2. Add the cauliflower pieces and salt.
3. Simmer for 5 to 8 minutes, ensuring the cauliflower pieces do not change colour.
4. Remove and transfer to a bowl.
5. Combine the tomatoes, lemon and olives in a bowl. Mix well.
6. Add the egg, cheese and oregano to the cauliflower.
7. Mix well.
8. Gently brush the pizza base with olive oil.
9. Spread the cauliflower mixture on top and drizzle with some more olive oil.
10. Scatter the lemon mixture on top and sprinkle pepper powder.
11. Bake in a preheated oven at 450F/225C for 10 minutes or until the top begins to brown and the cheese has melted fully.
12. Remove and cool.
13. Garnish with basil leaves.
14. Slice and serve at once.