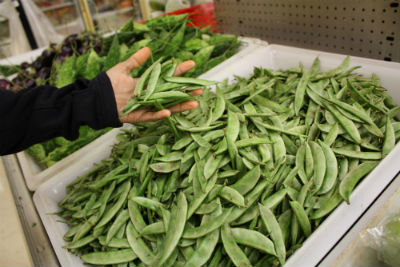 Ingredients:
Avarakkai (Broad Beans) – 100 gms, chopped, boiled
Bengal Gram Dal – 1/2 cup
Onion – 1, grated
Urad Dal – 1 tsp
Ginger – 1/2 inch piece, peeled
Green Chillies – 3
Garlic – 10 cloves
Dry Red Chillies – 2
Curry Leaves – few
Coriander Leaves – few
Mustard Seeds – 1/2 tsp
Cumin Seeds – 1/2 tsp
Oil – 1/2 cup
Salt as per taste
Method:
1. Soak the bengal gram dal in water for an hour.
2. Drain and add salt, green chillies, garlic, ginger, cumin seeds and dry red chillies.
3. Grind them together and keep aside.
4. Heat oil in a pan over medium flame.
5. Fry the mustard seeds and urad dal for 45 seconds.
6. Add the onions and curry leaves. Stir-fry for a minute.
7. Add the ground paste and stir.
8. Reduce flame to low and cover the pan with a lid.
9. Simmer for 3 minutes and stir to mix well.
10. Cook for a couple of minutes till the mixture does not stick to fingers.
11. Then add the boiled broad beans and stir well.
12. Cook for a minute or two.
13. Garnish with curry leaves and coriander leaves.
14. Remove and serve.