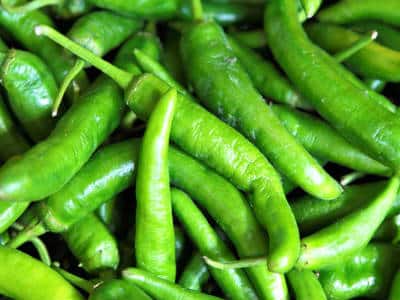 Ingredients:
Green Chillies – 10, washed, slit
Tamarind Extract – 1 cup
Turmeric Powder – 1/2 tsp
Mustard Seeds – 1/2 tsp
Fenugreek Seeds – 1/2 tsp
Oil as required
Salt as per taste
Dry roast and ground:
Raw Rice – 2 tsp
Toor Dal – 1 tsp
Fenugreek Seeds – 1/2 tsp
Coriander Seeds – 1 tsp
Asafoetida – a small piece
Method:
1. Heat little oil in a pan.
2. Fry the slit green chillies till it changes colour.
3. Remove and keep aside.
4. Add the tamarind extract to a pan over medium flame.
5. Add salt, turmeric powder and stir well.
6. After a minute add 2 tsp of the ground powder.
7. When it starts to boil, add the green chillies.
8. In a separate pan, heat 1 tsp oil and fry the mustard seeds and fenugreek seeds.
9. Add this to the kuzhambu and stir well.
10. Remove from flame.
11. Serve with curd rice.