A moist and delicious afternoon tea cake, this banana cake is a easy to make. Popular with kids, it is also a great dessert for special occasions.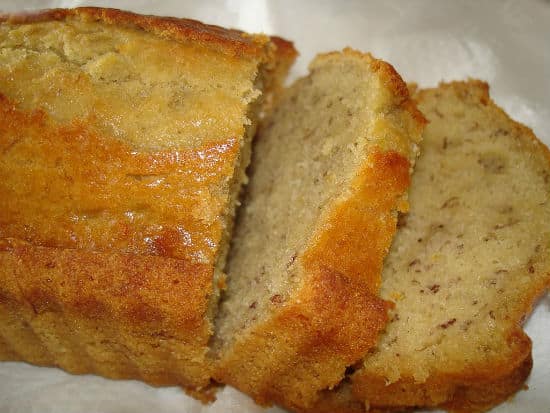 Ingredients:
Plain Flour (Maida) – 2 cups
Caster Sugar – 2 cups
Eggs – 2
Butter – 100 gms, melted
Vanilla Essence – 2 tsp
Milk – 1/2 cup
Bananas – 1 cup, mashed
Oil as required
Walnuts – few, chopped
Almonds – few, chopped
Raised – few
Method:
1. Sift the flour into a large bowl.
2. Add the sugar and mix.
3. Break the eggs and add the vanilla essence, butter, milk, walnuts, almonds, raisins and mashed bananas.
4. Stir well until combined.
5. Transfer this to a greased loaf pan lined with parchment paper.
6. Place the pan into a preheated oven at 180C/360F.
7. Bake for 25 to 35 minutes or until a skewer inserted into the centre comes out clean.
8. Remove and cool.
9. Slice and serve.