Gingerbread men cookies is a Christmas classic favorite snack for kids and adults alike. This is a a basic gingerbread man recipe. Use your creativity and decorate as desired.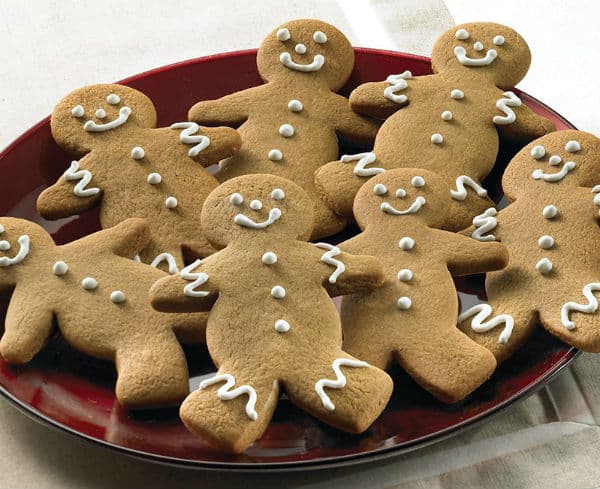 Ingredients:
Plain Flour (Maida) – 175 gms
Light Brown Sugar – 85 gms
Soda Bicarbonate – 1/2 tsp
Ginger – 1 tsp, ground
Butter – 50 gms, rubbed into fine breadcrumbs
Golden Syrup – 2 tblsp
Egg – 1, small, beaten
Black Currants to garnish
Method:
1. Combine the maida, soda bicarb and ginger in a bowl.
2. Add the butter and sugar.
3. Now add the golden syrup and egg.
4. Mix well to form a smooth dough.
5. Divide the dough into 2 portions.
6. Roll out one half onto a lightly floured surface.
7. Cut out gingerbread men using a cutter and place them on a greased baking tray.
8. Use the currants to make eyes and buttons.
9. Repeat until all dough is used up.
10. Place the tray in a preheated oven at 190C for about 10 minutes until the biscuits turn slightly dark.
11. Remove and cool.
Tip:
1. Instead of currants, use cream to decorate the gingerbread men as desired. Bake the biscuits and once slightly cooled, use cream to make the eyes, dress and use gems for buttons.