A healthy, tasty and nutritious snack for kids. Perfect for school snack box or as a light evening snack.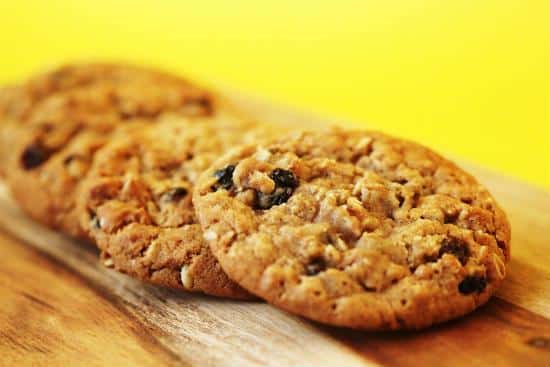 Ingredients:
Maida – 1/2 cup
Wheat Flour – 1/2 cup
Rolled Oats – 1 1/2 cups, large flakes
Cinnamon Powder – 1 tsp
Baking Soda – 1/2 tsp
Baking Powder – 1/4 tsp
Salt as per taste
Nutmeg Powder as per taste
Butter – 1/2 cup
Brown Sugar – 3/4 cup
Eggs – 2, medium
Vanilla Extract – 1 tsp
Raisins – 1/3 cup
Method:
1. Mix maida, wheat flour, oats, cinnamon, baking soda, baking powder, salt and nutmeg powder in a large bowl.
2. In a separate bowl, combine butter and sugar.
3. Whisk till light and fluffy, for a minute.
4. Add the eggs and vanilla.
5. Add the maida-wheat flour mixture and mix till combined.
6. Add raisins.
7. Drop about 2 tblsp of batter onto a baking sheet.
8. Using wet fingers press down each cookie, spreading it about 2 1/2 inches across.
9. Bake in a preheated oven at 190C/375F for about 10 minutes or until the bottom turns golden brown.
10. Remove and cool.
11. Serve as a snack.