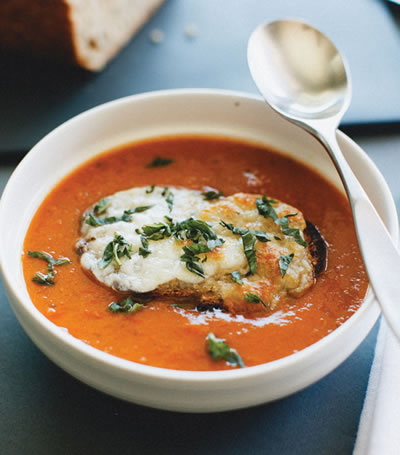 Ingredients:
Tomatoes – 450 gms, ripe, cut into wedges, seeds removed
Onion – 1, small, cut into wedges
Extra Virgin Olive Oil – 1/2 tblsp
Parsley – 1 tblsp, chopped
Garlic – 1 to 2 cloves
Vegetable Stock – 3/4 cup (or water)
Tomato Paste – 1 tblsp
Heavy Cream – 1/4 cup
Brown Bread – 2 slices
Mozzarella Cheese – 2 slices
Basil Leaves for garnish
Sea Salt as per taste
Black Pepper Powder as per taste

Method:
1. Place the tomatoes and onions on a baking tray and drizzle with olive oil.
2. Sprinkle salt, pepper and parsley.
3. Toss to mix well.
4. Place the garlic inside the tomatoes to preven them from burning.
5. Place the tray in a preheated oven at 350F till tomatoes are reduced to half their original size or for 25 to 30 minutes.
6. Remove and keep aside to cool.
7. Place a large pan over medium flame.
8. Pour the vegetable stock and add the tomato paste.
9. Add all the ingredients from the baking tray and simmer for 3 to 5 minutes.
10. Transfer to a blender and puree the soup until smooth.
11. Return to the pot and reduce heat to low.
12. Add the cream, salt and pepper.
13. Meanwhile drizzle each bread slice with little olive oil and a slice of mozzarella cheese.
14. Toast the bread till the cheese has melted.
15. Float a toast in each bowl of soup.
16. Garnish with the oregano and serve hot.