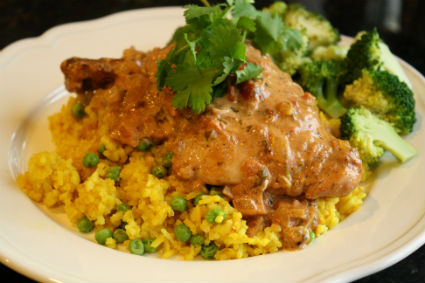 Ingredients:
Whole Chicken – 1 kg, skinned
Onions – 8, finely chopped
Green Chillies – 5, chopped
Ginger Garlic Paste – 3 tsp
Tomato – 3, chopped
Red Chilli Powder – 1 tsp
Turmeric Powder – 1/2 tsp
Garam Masala Powder – 1/2 tsp
Eggs – 3, boiled and halved
Curry Leaves – handful
Coriander Leaves – 2 bunches, chopped
Oil
Salt as per taste
Method:
1. Heat oil in a pan and saute the onions.
2. Add the green chillies, ginger garlic paste, turmeric powder, garam masala powder and red chilli powder.
3. Fry for a minute or two.
4. Add the chopped tomatoes and saute until oil floats on top.
5. Mix the egg halves with 1/4th of the masala.
6. Stuff the chicken with this and secure the chicken with a string.
7. Pressure cook upto 1 whistle.
8. Remove the chicken and transfer it to a large pan.
9. Add the remaining masala and fry the chicken ensuring the chicken is coated well.
10. Garnish with curry leaves and coriander leaves.
11. Transfer to a serving dish.
12. Serve with plain rice or naan.
Note: image is for illustration purposes only and not that of the actual recipe.