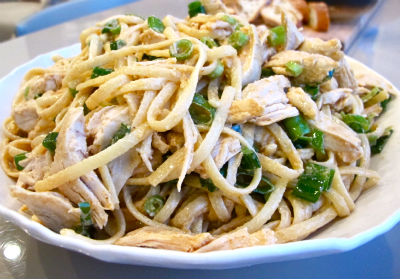 Ingredients:
Linguine Noodles – 125 gms, cooked as per packet instructions, drained
Chicken Breasts – 1, boneless, skinless, cut into thin strips
Cornstarch – 1/2 tsp
Oil – 1 tblsp
Red Onion – 1, finely sliced
Garlic – 1 clove, finely sliced
Cabbage – 200 gms, finely shredded
Baby Soy Beans – 1 cup, shelled, fresh or frozen
Rice Vinegar – 1 tblsp
Soy Sauce – 1 tblsp
Salt as per taste
Black Pepper Powder as per taste
Method:
1. Combine the chicken strips with cornstarch in a bowl.
2. Sprinkle salt and pepper.
3. Heat 1/2 tblsp of oil in a nonstick pan over medium flame.
4. Add the chicken and cook until light brown on the outside, about 2 to 3 minutes.
5. Transfer to a plate.
6. Add the remaining oil to the pan.
7. Saute the garlic and onions.
8. Add cabbage and cook until tender, about 2 to 3 minuttes.
9. Add the soy beans, vinegar, soy sauce, chicken and noodles.
10. Toss well and cook for 3 to 4 minutes.
11. Remove and Serve warm.
Note: image is for illustration purposes only and not that of the actual recipe.