Experience the taste of South India with our Neer Dosa recipe. These delicate, paper-thin rice crepes are a breeze and perfect for a light meal or snack.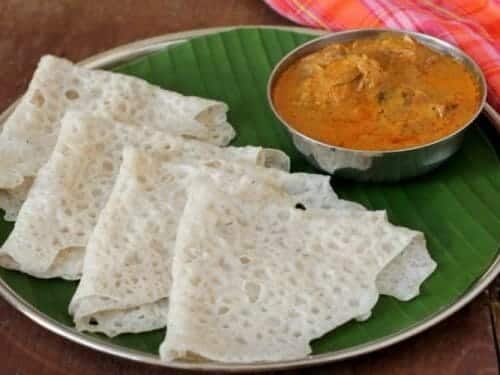 Neer Dosa, a speciality of coastal Karnataka, is a culinary masterpiece. "Neer" means water, and these dosas are aptly named for their thin, watery consistency. A true testament to South Indian cuisine, Neer Dosa is a delicate and flavorful dish that's surprisingly easy to make.
This recipe starts by soaking raw rice, and then blending it with grated coconut, ginger, green chilli, and a pinch of asafoetida powder. The batter is then seasoned with cumin seeds, coriander leaves, and salt. The result should be a thin, smooth batter resembling rava dosa.
Cooking Neer Dosa is a delightful process. Ladle the batter onto a hot nonstick pan, spread it evenly, and let it turn golden brown and crispy on both sides. The use of minimal oil keeps these dosas light and healthy.
Neer Dosa is best enjoyed hot and served with your favourite chutney. It's a versatile dish that can be paired with coconut chutney, tomato chutney, or even sambar. For those who love South Indian cuisine, Neer Dosa is a must-try, and it pairs beautifully with other classics like Masala Dosa and Idli.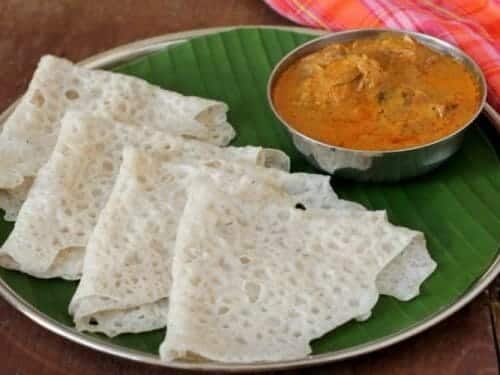 Neer Dosa

Recipe

Experience the taste of South India with our Neer Dosa recipe. These delicate, paper-thin rice crepes are a breeze and perfect for a light meal or snack.
Ingredients for
Neer Dosa
1 1/2

cup

Raw Rice

1/2

cup

Grated Coconut

1/2

tsp

Cumin Seeds

1

tbsp

Finely Chopped Coriander Leaves

A Pinch of Asafoetida Powder

1

Green Chili (finely chopped)

A Small Piece of Ginger (peeled and finely chopped)

Salt to taste

Oil for cooking
How to make
Neer Dosa
Soak the raw rice in water for 2 hours.

Drain the water and add ginger, green chilies, and grated coconut to the rice. Blend to a smooth batter.

Transfer the batter to a large bowl.

Add a little water to the mixer jar, run it once or twice, and add this to the batter.

Mix in asafoetida powder, coriander leaves, cumin seeds, and salt. The batter should be thin, like that of rava dosa.

Heat a nonstick pan over medium flame and add a little oil.

Pour a ladleful of batter onto the pan and spread it evenly.

Add oil around the edges and cook until golden brown and crisp on both sides.

Remove the dosa from the pan and serve it hot with your favorite chutney.
Are you in search of a recipe for neer dosa? Look no further! Here's a simple and delicious neer dosa recipe to satisfy your taste buds. Neer dosa, a popular South Indian delicacy, is a thin and light pancake made from rice. It is traditionally served with a delectable side dish to enhance its flavours.
To make the neer dosa batter:
Cook rice in water for a few hours.

Once the rice is well-soaked, grind it into a smooth paste. You can adjust the consistency by adding water as per your preference.

Add a pinch of salt to the batter and mix well.
Your neer dosa batter is ready!
To prepare the neer dosa:
Heat a non-stick pan and pour a ladleful of the batter onto the centre.

Spread it gently in a circular motion to form a thin dosa.

Cook it on medium heat until the edges turn crisp and golden brown.

Flip it over and cook for a few more seconds.

Remove the neer dosa from the pan and repeat the process with the remaining batter.
Now, let's talk about the perfect neer dosa side dish. You can serve neer dosa with a variety of accompaniments. One popular choice is coconut chutney, which adds a delightful flavour. To make coconut chutney, blend fresh coconut, roasted Bengal gram, green chillies, ginger, and a pinch of salt together. You can also temper it with mustard seeds, curry leaves, and urad dal for an extra aroma touch.
You can try tomato chutney or sambar if you prefer a spicier side dish. Both these options complement neer dosa wonderfully. Tomato chutney is prepared by sautéing tomatoes, onions, and spices, then blending them into a smooth paste. On the other hand, sambar is a lentil-based vegetable stew that can be prepared with various vegetables like carrots, beans, and drumsticks. The tangy and spicy sambar flavours perfectly complement neer dosa's simplicity.
And there you have it! A comprehensive guide to making neer dosa and choosing the ideal side dish to elevate its taste. Follow this recipe, and you'll have a delicious meal ready quickly. Happy cooking!
Frequently Asked Questions (

FAQ): 
What can I serve with Neer Dosa?
Neer Dosa pairs wonderfully with coconut chutney, tomato chutney, or sambar. It's also a great accompaniment to other South Indian favourites like Masala Dosa and Idli.
Can I make Neer Dosa gluten-free?
Absolutely! Neer Dosa is naturally gluten-free since it's made from rice and coconut, both gluten-free ingredients.
Is there a difference between Neer Dosa and regular dosa?
Yes, there is. Neer Dosa is much thinner and lighter than normal dosa. It has a delicate, almost translucent texture, while regular dosa tends to be thicker and more substantial.
Can I prepare the batter in advance and store it?
You can make the batter in advance and refrigerate it for up to 24 hours. Just remember to give it a good stir before making the dosas.
Are Neer Dosas challenging to flip in the pan?
Not at all! Neer Dosas are pretty thin, making them easy to flip. Just ensure that you cook them until they're golden and crisp on one side before flipping them for best results.