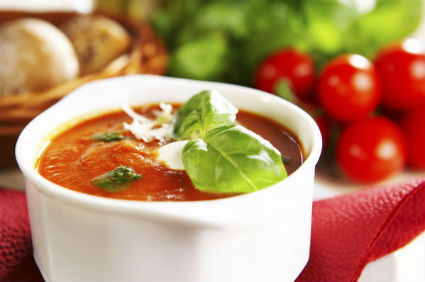 Ingredients:
Tomatoes – 1 1/2 kgs, chopped
Oil – 1 tblsp
Onions – 1 cup, chopped
Garlic – 3 cloves, crushed
Water – 500 ml
Basil – 1/4 cup
Sea Salt as per taste
Black Pepper Powder as per taste
Method:
1. Heat oil in a large pan.
2. Saute onions for 10 minutes before adding garlic cloves.
3. Saute for one more minute.
4. Add chopped tomatoes, water, basil, salt and pepper.
5. Cover with a lid and bring to a boil.
6. Reduce heat to low and simmer for half an hour.
7. Remove from heat and puree the mixture until smooth.
8. Serve hot garnished with basil leaves.
image credit: microwaverecipescookbook.com