A simple, healthy and delicious salad with paneer, carrots, tomatoes and cabbage. Perfect for the hot summer days.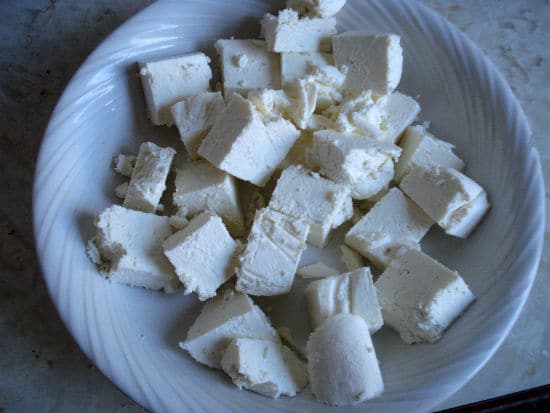 Ingredients:
Paneer – 125 gms
Carrot – 50 gms, finely chopped or julienned
Garlic – 1 clove, peeled
Tomato – 1, small, finely chopped (optional)
Cabbage – 1/4 cup, finely chopped
Raisins – 1/4 tsp
Almonds or Walnuts or Cashew Nuts- 2 tblsp
Juice of 1 small Lemon
Black Pepper Powder as per taste
Oil as required
Salt as per taste
Method:
1. Dice the paneer into small cubes.
2. Transfer to a bowl and sprinkle a little salt.
3. Keep aside for 5 minutes.
4. Heat little oil in a pan over medium flame.
5. Fry the paneer and garlic until golden brown and remove.
6. Transfer to a bowl.
7. Add the carrots, cabbage, raisins, almonds, lemon juice and black pepper powder.
8. Toss well and serve at once.