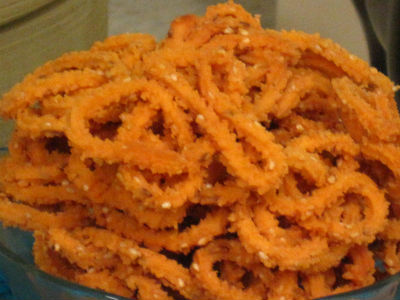 Ingredients:
Besan Flour – 2 cups
Ghee or Oil – 3 cups, for frying
Rice Flour – 4 cups
Cumin Powder – 4 tsp
Salt as per taste
Red Chilli Powder as per taste
White Sesame Seeds – 1 cup
Asafoetida – 1/4 tsp
Murukku Press
Method:
1. Fry besan flour in a little oil.
2. Mix with rice flour, cumin, salt, chilli powder, sesame seeds and asafoetida.
3. Add water to make a stiff batter.
4. Using the murukku press, make shapes in hot oil and deep fry till brown and crisp.
5. Remove and drain.
6. These will stay good if stored in an air tight container.
image credit: essence-de-life.blogspot.in