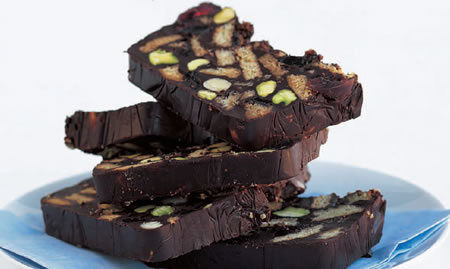 Ingredients:
Plain Chocolate – 200 gms
Unsalted Butter – 125 gms
Golden Syrup – 1 tblsp
Plain Biscuits – 150 gms
Red Cherries – 100 gms (optional)
Pistachios – 50 gms, shelled (optional)
Raisins – 50 gms (optional)
Almonds – 25 gms, blanched (optional)
Method:
1. Loosely line a loaf tin with cling film and then put the tin to one side.
2. Break the chocolate into a bowl.
3. Add the butter and syrup.
4. Place the bowl over a pan of barely simmering water and gently melt the contents.
5. Halve the cherries and break the biscuits into small pieces.
6. Remove the chocolate from the heat, and allow the bowl to cool slightly.
7. Stir in the remaining ingredients until coated.
8. Spoon the mixture into the loaf tin and press it down with the back of a spoon.
9. Loosely cover with the extra cling film and chill for 2 hours, to set.
10. Carefully turn the tin upside down on a chopping board.
11. Remove the tin and unwrap the cling film.
12. Leave the fridgecake to soften for a few minutes.
Note: If you would prefer a smoother cake, break the biscuits into even smaller pieces.