Dive into the flavours of the sea with Prawn Paratha! A unique twist on traditional parathas, these savoury delights are stuffed with a luscious prawn mixture, spiced to perfection with green chillies, and complemented by the freshness of mint and coriander leaves.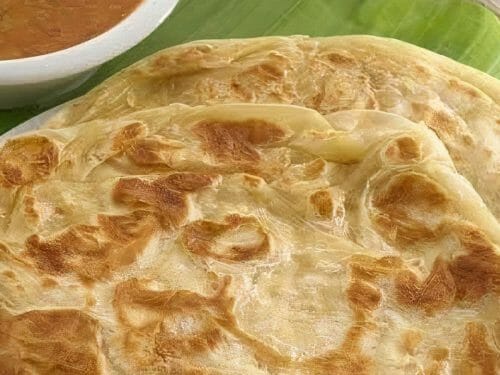 Prawn Paratha is an inventive fusion of coastal and North Indian flavours that will tantalize your taste buds. This unique dish combines the heartiness of parathas with the salty goodness of prawns, resulting in a mouthwatering creation perfect for any meal.
Imagine tender prawns ground into a smooth paste, mingling with the fiery kick of green chillies, the earthiness of mint and coriander leaves, and the warmth of ginger garlic paste. These flavours combine to create a vibrant and savoury filling for your parathas.
To make Prawn Parathas, you'll prepare a soft wheat flour dough, which is the perfect envelope for the prawn filling. After rolling out small portions of the dough, you'll generously stuff them with the prawn mixture and seal them shut, creating pockets of flavour. These parcels are then gently cooked in a non-stick pan until golden brown and fragrant.
Serve your Prawn Parathas hot, perhaps with a dollop of yoghurt or zesty mint chutney to balance the spices. These parathas are a delicious departure from the usual, making them a fantastic addition to your culinary repertoire.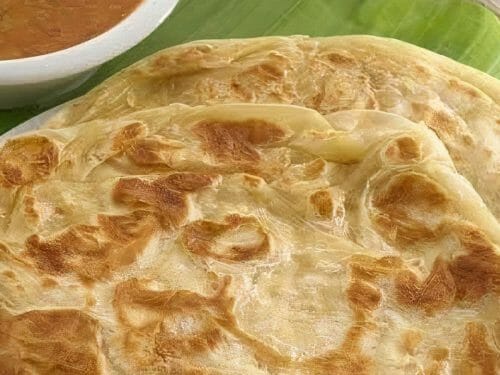 Prawn Paratha

Recipe

Dive into the flavours of the sea with Prawn Paratha! A unique twist on traditional parathas, these savoury delights are stuffed with a luscious prawn mixture, spiced to perfection with green chillies, and complemented by the freshness of mint and coriander leaves.
Ingredients for
Prawn Paratha
1

cup

Prawn

2

cups

Wheat Flour (or as required)

3 to 4

Green Chilli

1

cup

Onion (chopped)

1

cup

Mint Leaves

1

cup

Coriander Leaves

2

tsp

Turmeric Powder

2

tsp

Garam Masala

Little Oil

Ghee (Clarified Butter)
How to make
Prawn Paratha
Start by mixing the wheat flour with a little oil and set it aside for 15-20 minutes to rest.

In a pan, heat some ghee and sauté the chopped onion for 1 to 2 minutes until translucent.

Add the coriander and mint leaves to the pan.

Mix in ginger garlic paste.

In a blender, grind the prawns and green chillies into a smooth paste.

Add this prawn paste to the onion mixture.

Sprinkle turmeric powder and salt, then mix thoroughly without any lumps.

Add a pinch of garam masala and cover with a lid, allowing it to simmer on low heat for a few minutes.

Take a small portion of the wheat flour dough, roll it out by hand, and stuff it with the cooked prawn mixture. Seal it well.

Roll the stuffed dough into a paratha shape.

In a non-stick pan, add some ghee and fry the paratha on both sides until golden brown.

Serve your Prawn Parathas piping hot.
In South Indian cuisine, the shrimp paratha, also known as the parotta, is a delectable dish that combines the delicate flavours of shrimp with the flaky goodness of parathas. This unique culinary creation has become a favourite amongst locals and tourists alike due to its heavenly taste and the ability to savour traditional flavours in English.
The shrimp paratha, prominently featuring succulent shrimp, is a harmonious marriage of coastal seafood and rich buttery parathas. This culinary marvel showcases the South Indian region's love for bold and vibrant flavours. The paratha, known for its layered texture and crispy exterior, provides the perfect base for the flavorful shrimp filling.
To prepare this mouthwatering delicacy, the shrimp is first marinated in aromatic spices, including fragrant turmeric, fiery red chilli powder, and aromatic coriander. The marinated shrimp are then sautéed to perfection, allowing the spices to infuse deep into the tender flesh, enhancing the overall flavour profile.
Meanwhile, the parathas are skillfully rolled out to achieve the desired thickness and shape. The dough is meticulously stretched and folded to create the signature layers, ensuring a crispy and flaky texture once cooked. The parathas are then cooked on a hot griddle until golden brown, releasing a delightful aroma that instantly whets the appetite.
Once both components are ready, the shrimp is generously stuffed into the parathas, creating a sumptuous filling that bursts with umami notes. The fusion of the shrimp's natural sweetness and the paratha's buttery goodness creates a taste sensation that captivates the palate.
To elevate the experience, the shrimp paratha is traditionally served with tangy tomato chutney or cooling mint yoghurt. These accompaniments add a refreshing element that balances the dish's richness, making every bite a delightful adventure for the taste buds.
The shrimp paratha is a must-try whether you're a seafood enthusiast or an adventurous foodie. Indulge in the authentic flavours of South India, expertly crafted into this culinary masterpiece that transcends language barriers and speaks the universal language of gastronomy.
Frequently Asked Questions:
Can I use frozen prawns for Prawn Paratha?
Yes, frozen prawns work well for this recipe. Just make sure to thaw and drain them before grinding.
What can I serve with Prawn Paratha?
Prawn Parathas are delightful with mint chutney, tamarind sauce, or plain yogurt. Pair them with a crisp salad for a complete meal.
Can I make vegetarian versions of this dish?
Absolutely! You can substitute prawns with paneer (Indian cottage cheese) or mashed potatoes for a vegetarian twist on these parathas. Enjoy the same spicy goodness with your preferred filling.