Indulge in the creamy and spicy delight of Dahi Aloo. Tender potatoes are bathed in a rich yoghurt gravy, making it a perfect comfort food.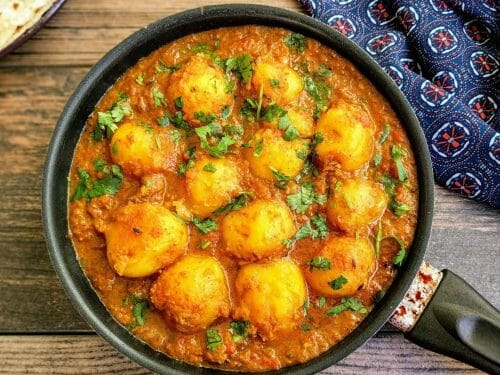 Dahi Aloo, a classic North Indian dish, is a creamy and satisfying combination of potatoes and yoghurt. This comforting recipe combines the earthy flavour of potatoes with the tangy richness of yoghurt, making it a favourite among kids and adults.
This dish's small potatoes are boiled, peeled, and fried to a golden brown perfection. They contrast the creamy yoghurt gravy infused with aromatic spices like chilli powder, turmeric, garam masala, and more. The result is a harmonious blend of flavours and textures that's truly irresistible.
Dahi Aloo is a quick and easy dish to prepare, making it ideal for busy weeknight dinners or when unexpected guests arrive. It's versatile, too—serve it with warm rotis, fluffy naan, or steamed rice for a hearty meal.
This dish perfectly balances creamy, spicy, and tangy notes, making it a hit at family gatherings and potluck dinners. If you're a fan of Indian cuisine, Dahi Aloo is a must-try recipe that will earn a permanent place in your cooking repertoire.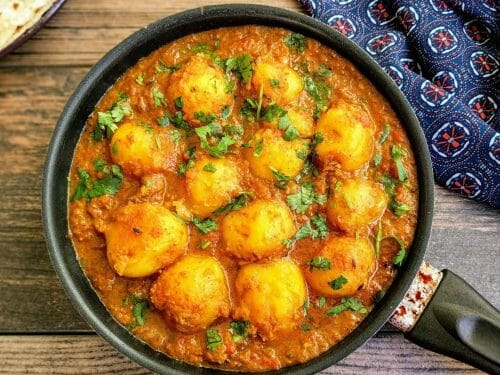 Dahi Aloo
Indulge in the creamy and spicy delight of Dahi Aloo. Tender potatoes are bathed in a rich yoghurt gravy, making it a perfect comfort food.
Ingredients
250

gm Small Potatoes

2

cups

Curd

1/2

tsp

Chilly Powder

1/2

tsp

Turmeric Powder

1/2

tsp

Pepper

1/2

tsp

Garam Masala

Salt to taste

4

tbsp

Oil

1

large Onion (finely chopped)

2

Green Chillies (finely chopped)

1

or 2 Garlic Cloves (optional)

A small piece of Ginger

A handful of Coriander Leaves
Instructions
Boil the small potatoes in water, drain, and allow them to cool. Peel them and cut into small pieces if using large potatoes.

Heat half of the oil in a kadai (wok). Fry the boiled potatoes until they turn golden brown, sprinkling a little salt. Remove and set aside.

In the same kadai, add the remaining oil. Fry the chopped onions, green chillies, garlic (if using), and ginger until the onions turn brown. Add all the masala powders except pepper and fry until aromatic. Remove the kadai from the heat and let it cool.

Add half of the chopped coriander, fried potatoes, and salt (if needed) to the mixture. Mix well.

Beat the curd and add it to the mixture. Combine thoroughly.

Transfer the mixture to a deep bowl and garnish with the remaining coriander leaves. Sprinkle with pepper.

Serve your delicious Dahi Aloo chilled if desired.
This Dahi Aloo recipe is perfect for those who love the combination of potatoes and yoghurt. To prepare this lip-smacking Dahi ke Aloo recipe, follow the simple steps below.
Firstly, gather all the required ingredients for the Dahi Vada recipe in Hindi. You will need some boiled potatoes, yoghurt, and aromatic spices. This recipe of Dahi Aloo can be a great accompaniment to rice or roti.
To begin, heat a pan and add some oil. Once the oil is hot, add the boiled and diced potatoes to it. Saute the potatoes until they become golden brown and crispy. This step is crucial as it adds a delightful texture to the Aloo Dahi recipe.
Next, prepare the yoghurt mixture separately. In a bowl, whisk the yoghurt until it becomes smooth and creamy. To enhance the flavours, you can add spices like salt, turmeric, cumin, and red chilli powder. This yoghurt mixture is the crucial component of this Aloo Dahi recipe in English.
Add the yoghurt mixture to the pan once the potatoes are cooked to perfection. Stir it well, ensuring each potato piece is coated with the flavorful yoghurt sauce. Allow the Aloo Dahi recipe to simmer on low heat for a few minutes to blend the flavours.
Finally, garnish the Dahi Aloo with fresh coriander leaves and serve it hot. This Aloo recipe is delicious and nutritious due to the combination of potatoes and yoghurt. Enjoy this Dahi Aloo recipe with rice or as a side dish with your favourite main course.
In conclusion, this Dahi Aloo recipe is a delightful and quick option for those looking to try something new with potatoes. Whether you follow the Aloo Dahi recipe in English, this dish will surely leave you craving more. So, give it a try and indulge in the flavours of this luscious Dahi ke Aloo recipe.
Frequently Asked Questions (FAQ):
What can I serve with Dahi Aloo?
 Dahi Aloo pairs perfectly with Indian bread like roti or naan. It's also great with steamed rice or pulao for a more substantial meal.
Can I use yogurt instead of curd in this recipe?
Yes, you can use yogurt and curd interchangeably in this recipe. Both will give you the desired creamy texture.
Is Dahi Aloo a spicy dish?
Dahi Aloo has a mild spiciness that's well-balanced by the creaminess of the yogurt. You can adjust the chilli powder to your preferred level of heat.