A dark, delicious cake with an optional glaze. You do not need a special occasion to make this cake.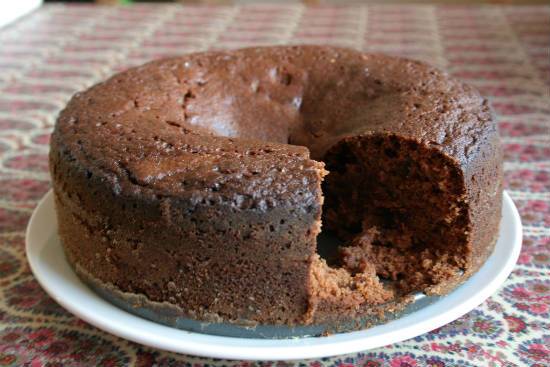 Ingredients:
Cocoa Powder – 1 cup, unsweetened
Plain Flour – 5 to 6 cups
Sugar – 3 cups, granulated
Mayonnaise – 1 1/2 cups
Vanilla Extract – 2 tsp
Balsamic Vinegar – 1/4 cup
Orange Juice – 4 cups
Orange Zest – 1/4 cup, grated
Baking Powder – 1 1/4 tblsp
Salt – 2 tsp
Cinnamon Powder – 2 tsp
For the optional glaze topping:
Icing Sugar – 2 cups
Cocoa Powder – 1/4 cup, unsweetened
Orange Juice – 1/3 cup
Method:
1. Combine the flour, cocoa powder, sugar, baking powder, saltand cinnamon powder in a large bowl.
2. Mix well until fully blended.
3. Add the vanilla extract, vinegar, mayonnaise and orange juice.
4. Mix for another 2 to 3 minutes.
5. Add the orange zest and mix again.
6. Pour this into a greased bundt pan sprinkled with some cocoa powder. If you do not have a bundt pan, use a regular cake pan.
7. Place the pan into a preheated oven at 175C/350F and bake for 45 minutes.
8. Insert a knife or toothpick and if it comes out clean, the cake is done.
9. Remove and allow it to cool.
10. To make the glaze, mix the sugar and cocoa powder in a bowl.
11. Gradually add the orange juice and mix well.
12. Drizzle this over the cooled cake.
13. Allow it to settle and then cut into slices.