Biryani is a popular dish for any occasion. While chicken biryani and mutton biryani are the most popular and commonly available biryanis, Turkey meat is also becoming popular because  of its inexpensive cost and taste.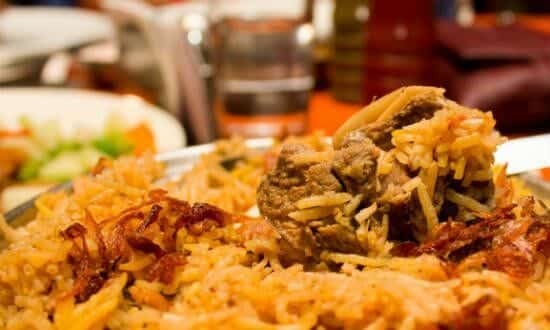 Ingredients:
Turkey – 250 gms, chopped
Onions – 2 to 3, chopped
Tomatoes – 2 to 3, chopped
Yogurt – 1/4 cup
Oil – 2 tblsp + 2 tsp
Ghee – 1 tblsp
Green Chillies – 4 to 6
Red Chilli Powder – 1 tsp
Basmati Rice – 1 1/2 cups
Butter – 2 1/2 tblsp
Garam Masala Powder – 1/2 tsp
Ginger Garlic Paste – 1 tblsp
Coriander Powder – 1 tsp
Coriander Leaves – few
Mint Leaves – few
Salt as per taste
Cardamoms – little
Cloves – little
Cinnamon – a small piece
Method:
1. Mix the yogurt, red chilli powder, coriander powder, garam masala powder and salt.
2. Add the turkey pieces and mix until evenly coated.
3. Keep aside for 6 to 8 hours.
4. Heat 2 tblsp oil in a pan over medium flame.
5. Add the ginger garlic paste and fry for 45 seconds.
6. Add the onions and green chillies.
7. Saute until onions are transparent.
8. Add the tomatoes and cook for 2 minutes.
9. Add coriander leaves, mint leaves and remove from flame.
10. Cool and grind to a smooth paste.
11. Heat ghee and 2 tsp oil in a pressure pan.
12. Add cardamom, cloves and cinnamon.
13. Fry for a minute.
14. Add the ground paste, salt and turkey with the marinade.
15. Stir well and cook for 10 to 15 minutes or until the meat is tender.
16. Add the basmati rice and pour enough water.
17. Cover with a lid and pressure cook until 2 whistles.
18. Remove and transfer to a serving dish.
19. Garnish with fried onions and serve hot with curd raita.
Note: Instead of a pressure pan, you can also use a regular pan. Cover the pan with a lid and cook for 30 to 40 minutes (or until rice is cooked), stirring from time to time.