A healthy salad recipe with shrimps and crispy tortillas. Ideal for a weekend lunch or dinner.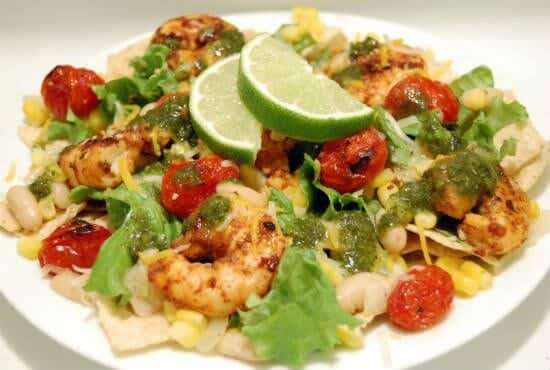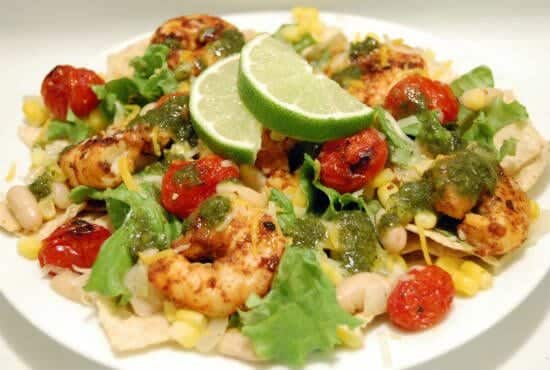 Ingredients:
Shrimps – 225 gms, peeled, deveined
Corn Tortillas – 1 to 2, depending on size, cut into small strips
Lettuce – handful, chopped
Avocado – 1, small, pitted, peeled, chopped
Radish – 2, finely sliced
Sweet Corn Kernels – 1/2 cup, cooked
Onion – 1/4 to 1/2 cup, finely sliced
COriander Leaves – handful, chopped
Olive Oil – 3/4 tsp
Red Chilli Powder – 1/2 tsp
Cumin POwder – 1/2 tsp
Red Chilli Flakes – a small pinch
Juice of 1/2 Lime
Honey – 1/2 tsp
Salt as per taste
Lime Wedges to serve
Optional Ingredients:
Sun-dried Tomatoes – few
Cheddar Cheese – grated, to garnish
Sour Cream or Greek Yogurt – to serve
Method:
1. Mix the shrimps, 1/2 tsp olive oil, red chilli powder, red chilli flakes, cumin powder, lime juice, honey and salt.
2. Toss well and cover with cling wrap.
3. Keep it in the fridge for 30 to 60 minutes.
4. Heat the remaining olive oil in a pan over medium flame.
5. Add the tortilla strips and a pinch of salt.
6. Cook until slightly browned and crispy. Remove and keep aside.
7. To the same pan, add the marinated shrimp and cook for 5 to 10 minutes or until the shrimps turn opaque.
8. Transfer to a serving bowl filled with avocado, onions, radish, corn and lettuce. Toss gently to mix.
9. Sprinkle the tortillas on top.
10. Garnish with coriander leaves.
11. Serve with lime wedges.