Lavang Latika (or sometimes known as Labanga Latika) is a traditional Bengali sweet. Stuffed, deep-fried pasty is soaked in sugar syrup and served as a dessert.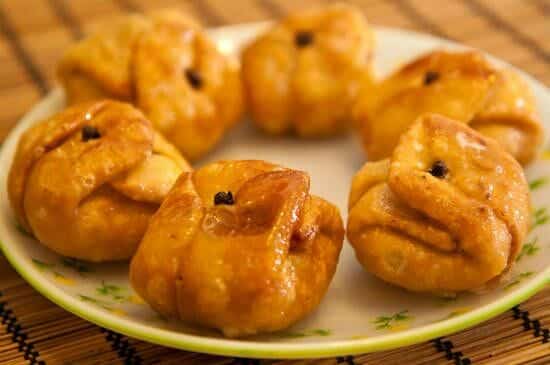 Ingredients:
Maida – 3 cups
Wheat Flour – 1 cup
Cloves – 25 to 30
Ghee – 3 tblsp
Sugar – 2 cups
Water – 1 cup
Lemon Juice – 1/2 tsp
Cloves – few
Salt as per taste
Oil for frying
For the filling:
Unsweetened Khoya – 400 gms
Coconut Powder – 2 cups
Cardamom Powder – 1/2 tsp
Sugar – 1 cup, powdered
Cashew Nuts – 2 tblsp, powdered
Pistachios – few, shelled
Raisins – few
Method:
1. Sieve the maida well.
2. Apply ghee to a plate.
3. Add salt, maida, wheat flour and little water.
4. Mix well and knead to a chapati dough consistency.
5. Cover and keep aside for 30 minutes.
6. Mix all the filling ingredients and keep aside.
7. Heat 1 cup of water over medium flame.
8. Add sugar and stir well until fully dissolved.
9. Bring to a boil and simmer until it reaches an one string consistency.
10. Add lemon juice and stir well.
11. Switch off the flame and keep warm.
12. Make small balls of the dough.
13. Roll them into small puris.
14. Add a little filling to the centre of the puri and fold well.
15. Fold them into a square and secure the edges with a clove on top.
16. Cover with a cloth and keep aside.
17. Heat oil for frying over medium flame.
18. Add the prepared latikas and fry until crispy and golden.
19. Remove and add to the sugar syrup.
20. Remove after a minute and keep them on a plate.
21. Allow it to cool.
22. Serve.