A very popular street food and often served as a breakfast dish as well, Bread Omelette is a delicious, simple and quick to make.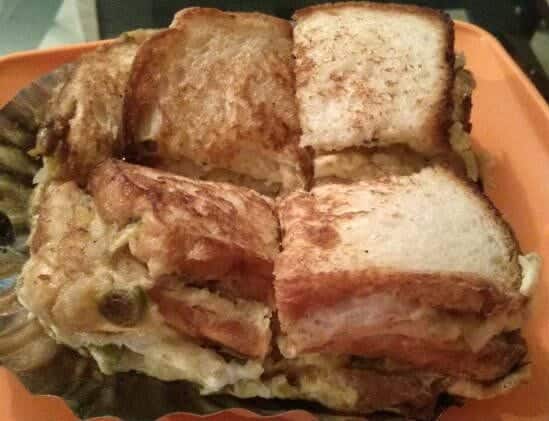 Ingredients:
Bread Slices – 8
Eggs -3 to 4, big
Onions – 2, finely chopped
Green Chillies – 3 to 4, finely chopped
Black Pepper Powder – 2 tblsp
Turmeric Powder – 1/2 tsp
Salt as per taste
Oil – 2 tblsp
Coriander Chutney – 1 cup (recipe here), optional
Method:
1. Break the eggs into a large bowl and beat well.
2. Add the onions, green chillies, salt, pepper powder and turmeric powder.
3. Mix well.
4. Heat a tawa over medium flame.
5. Add 2 bread slices and apply little around around the edges.
6. When the slices start to turn light golden brown, flip them over.
7. Pour a ladleful of the egg mixture and cook until 75% set.
8. Flip the bread and egg mixture.
9. Spread some coriander chutney and cook until done.
10. Fold them over and transfer to a serving plate.
11. Serve warm with ketchup.