A popular summer soup with tomatoes and corn. Serve warm or chilled.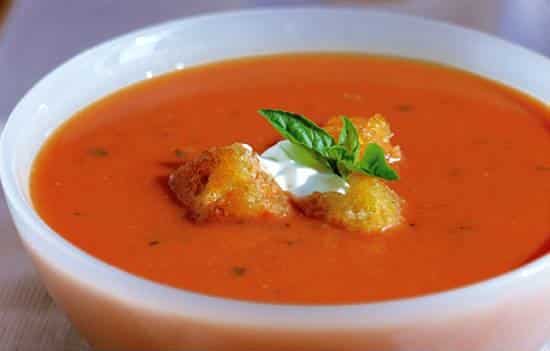 Ingredients:
Ripe Tomatoes – 2 to 3, big, cored, chopped
Corn – 1 ear, shucked (or use 1 cup Sweet Corn Kernels)
Butter – 3 tsp, unsalted
Onion – 1, big, chopped
Garlic – 2 cloves, chopped
Celery – 1, chopped
Carrot – 1 small or 1/2 medium, chopped
Parsley – 1/4 cup, chopped
Vegetable Stock – 2 cups (available in major super markets or use water)
Sugar – 1/4 tsp
Salt – 1/2 tsp
Black Pepper Powder as per taste
Basil Leaves – few, chopped
Method:
1. Heat butter in a large pot over medium flame.
2. Add the garlic, onions, celery, carrot and saute for 2 minutes or until the vegetables turn light brown.
3. Add the tomatoes, parsley, sugar, salt and pepper powder.
4. Pour the vegetable stock (or water) and stir well.
5. Bring to a boil.
6. Reduce flame to low-medium and simmer for 20 to 30 minutes.
7. Switch off the flame and allow it to cool.
8. Gently blend the soup using a hand masher or blend in a mixer.
9. Strain the soup and discard any solids.
10. Transfer the soup back to the pot and place it over medium flame.
11. Bring to a boil and add the corn.
12. Gently simmer until corn is tender.
13. Pour into individual serving bowls.
14. Garnish with basil leaves.
Note: You can skip steps 8, 9, 10 if desired. Add the corn after step 7 and continue with step 12.