A typical Anglo Indian sweet made during Christmas.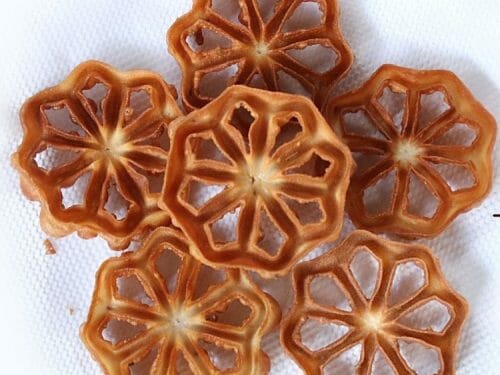 Rose Cookies are a popular and traditional sweet made during Christmas. They are called Achu Murukku in Tamil, Achapam in Malayalam and Rose De Coque in Goa. This is an eggless recipe and is a bit sweet and crispy.
They are called rose cookies as they look like rose petals.
Store them in airtight container and they can stay good for a few weeks. Ensure it is fully cooled before storing them.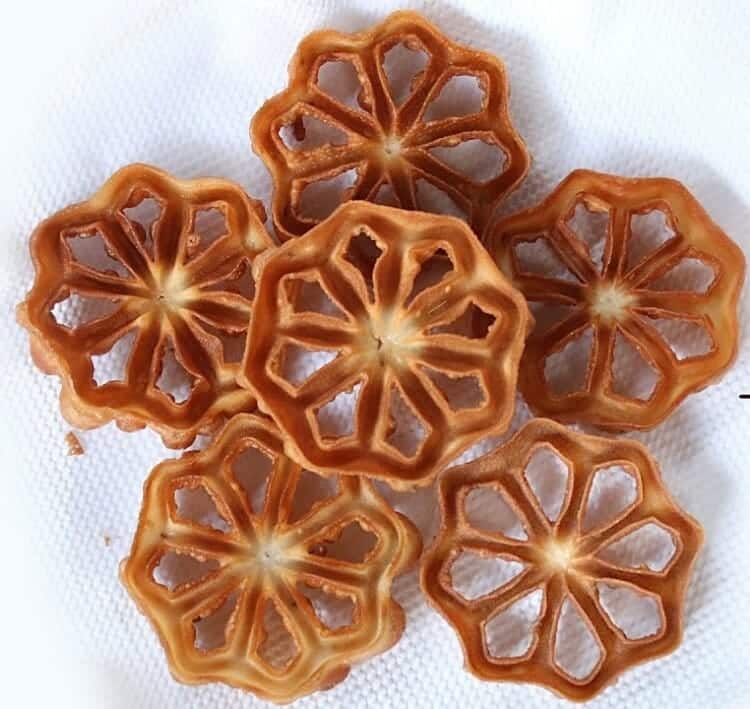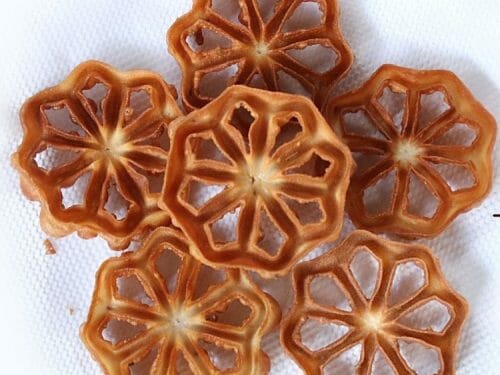 Rose Cookies
A typical Anglo Indian sweet made during Christmas.
Ingredients
1

cup

Rice Flour

1

tbsp

Maida / Plain Flour

3/4

cup

Coconut Milk

3/4

cup

Jaggery

few

Sesame Seeds

1

Cardamom

powdered

as per taste

Salt

as required

Groundnut Oil
Instructions
Mix the rice flour, maida, sesame seeds, salt and cardamom powder in a bowl.

Heat a pan over medium flame. Add the jaggery and pour enough water to cover it.

Simmer until the jaggery has fully dissolved.

Remove and allow it to cool.

Pour this into the flour mixture.

Add the coconut milk and mix well.

Mix it until it has a dosa batter like consistency.

Heat oil in a frying pan.

Dip the mould (achu murukku maker) in the oil

Dip the hot mould three-fourths into the batter and deep fry in hot oil.

When the cookies are light brown in colour, separate them from the mould using a spoon and fry them for another 30 seconds.

Repeat the process for the remaining batter.
Notes
If you dip the mould fully into the batter, it will be difficult to remove the cookies.
The recipe is available in Tamil also.