A perfect starter or a great evening tea time snack, this cutlet easy to make and delicious.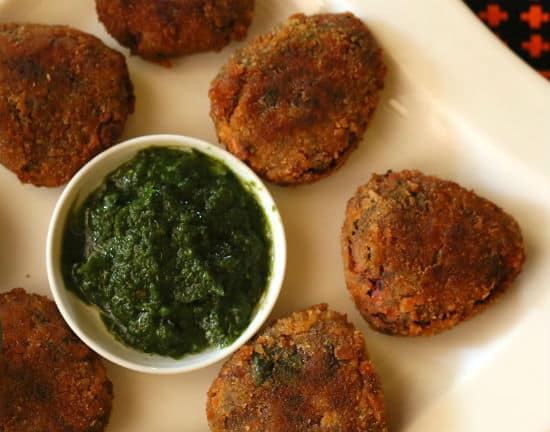 Ingredients:
Potatoes – 4
Spinach Leaves – 200 gms
Red Chilli Powder – 1 tsp
Wheat Flour – 100 gms
Black Pepper Powder – 1 tsp
Cumin Powder – 1 tsp
Onions – 2, finely chopped
Garam Masala Powder – 1 tsp
Breadcrumbs – 1 1/2 cups
Coriander Leaves – handful, chopped
Salt as per taste
Oil as required for frying
Method:
1. Boil, peel and mash the potatoes.
2. Finely chop the spinach and add to the potatoes.
3. Add the onions, coriander leaves, pepper powder, cumin powder, red chilli powder, garam masala powder and salt.
4. Mix well.
5. Add 1 tsp of breadcrumbs and mix again.
6. Make small-medium balls and shape them into cutlets of desired shapes. Keep aside.
7. Add a little water to the wheat flour and mix to make a fine paste.
8. Gently roll the cutlets in the paste and dredge them in the breadcrumbs.
9. Heat oil in a deep frying pan over medium flame.
10. Fry the prepared cutlets until golden brown.
11. Remove and drain excess oil.
12. Serve hot with tomato sauce or mint chutney.
image via YouTube
Subscribe to our Newsletter
Receive the latest recipes & kitchen tips !