Ever since Rava Idli was invented, it has been an all time favourite and a go-to recipe for instant idlis. The simple Rava Idli can be disguised in many forms. One of them is our recipe of the day, Keerai Rava Idli. This is a 30-minute recipe that can be made instantly without the hassle of fermenting or grinding.
Many of us have fussy children and we all have gone through a patch of having to coming up with innovative ideas to hide vegetables in food. Keerai Rava Idli is an ideal way to serve Keerai to children, especially to the ones who are not very partial to it. Kids just love Rava Idli and the beautiful green colour imparted by Keerai or Spinach is just another aspect that makes food very interesting.
We can choose from various varieties of Keerai/ Spinach. While Palak is the most popular choice, however, you could also use Amaranth (Mullai Keerai), Methi (Fenugreek leaves) or even Radish (Mooli/Moolangi) Keerai (usually available only during winter seasons) – the combinations are endless.
Our easy Keerai Rava Idli recipe will give you soft, spongy idlis and you will not have to buy any of the ready mixes available in the market.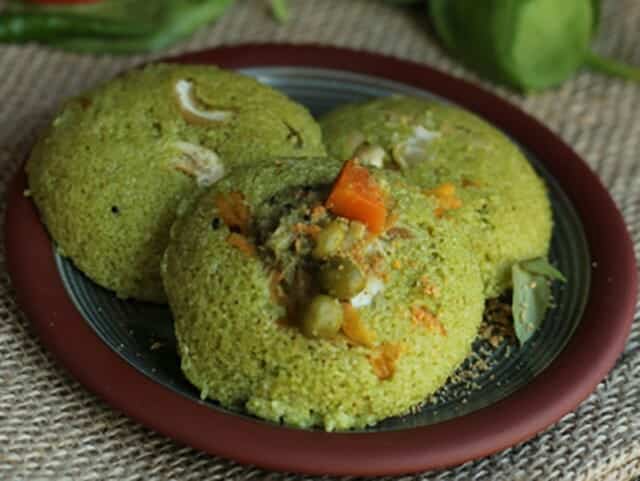 Ingredients:
Rava (Sooji) – 2 1/2 cups
Curd – 3/4 cup
Mustard Seeds – 1/4 tsp
Spinach Paste – 2 tsp
Baking Soda – 1 tsp
Oil – 2 tsp
Water – As Required
Salt to Taste
Method:
Heat a kadai under medium flame.
Add oil and temper with mustard seeds.
Add the rava and roast it until golden brown.
Remove from flame and keep it aside.
When it is cooled down, add curd, salt, baking soda, water, spinach paste and make a batter consistency. It should be a bit thick and not runny.
Heat a idli steamer and grease the plates with oil.
Pour the batter in the plates and steam cook for 10 minutes, until a knife when inserted comes out clean.
Tip: You can garnish it with roasted cashews or almonds.
Image Credit