A crispy, tasty snack ideal as a snack or as an appetizer. Make this Honey Chilli Potatoes at home and kids would love this delicious snack.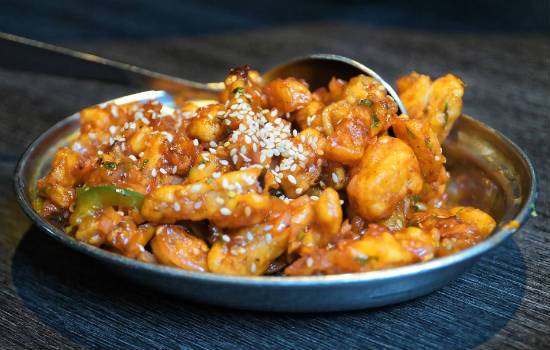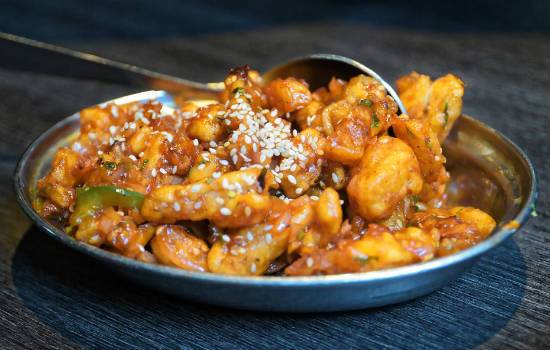 Ingredients:
Potatoes – 200 gms
Garlic – 1 clove, finely chopped
Red Chillies – 1, very finely chopped (or 1 tsp Red Chilli Flakes)
Kalonji – 1 tsp
Corn Flour – 1 to 2 tblsp
Oil for frying
Salt as per taste
White Sesame Seeds – little, to garnish (optional)
For the Sauce:
Red Chilli – 1, finely chopped (or use 1 tsp Red Chilli Flakes)
Garlic – 1 clove, finely chopped
Oil – 3/4 tsp
Sesame Seeds – 1 1/2 tsp
Tomato Sauce – 1 1/2 tsp
Vinegar – 1 tsp
Honey – 1 tblsp
Coriander Leaves – little, chopped
Method:
1. Boil the potatoes in slightly salted water.
2. Peel the skin and dice them into bite-sized pieces. Transfer to a bowl.
3. Add garlic, red chillies, kalonji, salt and corn flour.
4. Mix well and keep aside for 3 to 5 minutes.
5. Heat oil in a frying pan.
6. Sprinkle a little water on the potatoes and toss well.
7. Deep fry the potatoes until golden and crisp, about 2 to 3 minutes.
8. Remove and drain excess oil.
9. To make the honey chilli sauce, heat oil in a pan.
10. Add garlic and fry until golden.
11. Add all the other ingredients and mix well.
12. After 30 to 45 seconds, add the fried potatoes.
13. Mix well until evenly coated.
14. Garnish with coriander leaves.
15. Serve.
Tip: You can also slice the potatoes instead of dicing them.