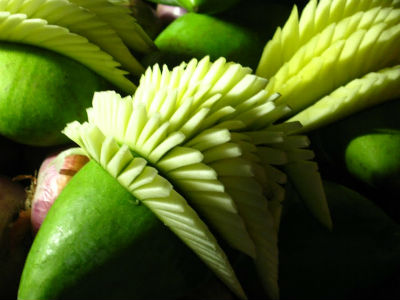 Ingredients:
Rice – 1 to 1 1/2 cups
Mango – 1, medium, grated
Green Chillies – 3 to 4, slit
Turmeric Powder – 1/2 tsp
Chilli Powder – 1/2 tsp (optional)
Salt to taste
A little extra Oil
For Seasoning:
Oil – 2 tblsp
Mustard Seeds – 1/2 tsp
Urad Dal – 1 tsp
Chana Dal – 1 tsp
Red Chilli – 1, broken
Asafoetida – a pinch
Curry Leaves – 2 sprigs
Method:
1. Cook rice so that each grain is separate, preferably in a rice cooker.
2. When done, spread on a plate to cool, sprinkle some oil, set aside.
3. Heat oil, add seasonings, one at a time, when curry leaves are done.
4. Add green chillies and grated mango, stiry fry for 1 to 2 minutes.
5. Add turmeric powder, chilli powder and salt, fry for a while longer till oil surfaces.
6. Remove from fire and cool.
7. Mix the prepared chutney with the rice.
8. Serve with ginger pachadi.