A great way to use up any leftover rice, this cutlet made with vegetables and rice is a delicious variation and make a tasty evening snack or an appetizer starter to any meal.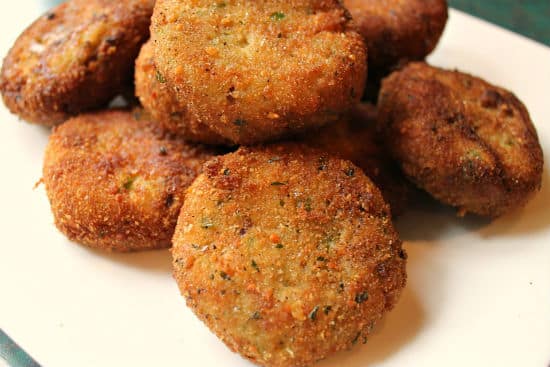 Ingredients:
Rice – 2 cups, cooked, mashed
Mixed Vegetables – 1 cup, finely chopped
Carrots – 2, finely chopped
Coriander Leaves – 1 tblsp, finely chopped
Mint Leaves – 1 tblsp, finely chopped
Ginger Garlic Paste – 2 tsp
Peanuts – 2 to 3 tblsp, powdered
Omam (Ajwain) – 1 tsp
Garam Masala Powder – 1 tsp
Breadcrumbs – 1 cup
Corn Flakes – 1 cup, crushed
Corn Flour – 2 tblsp
Red Chilli Powder – 2 to 3 tblsp (adjust as per taste)
Maida – 1/4 cup
Salt as per taste
Oil as required
Method:
1. Cook the carrots and mash well.
2. Heat 2 tblsp oil in a pan over medium flame.
3. Add the mixed vegetables and ginger garlic paste.
4. Sprinkle a little salt and saute for 3 to 4 minutes.
5. Add the peanut powder, ajwain, garam masala powder, red chilli powder and stir well.
6. Add mint leaves, coriander leaves, mashed carrot and mix well.
7. Remove from flame.
8. Add the rice and mix again.
9. Shape them into cutlets.
10. Gently roll them in the breadcrumbs and keep aside.
11. Mix the cornflour and maida with enough water to make a pourable paste.
12. Dip the cutlets in this mixture, roll them in the corn flakes and keep them in the fridge for 60 to 90 minutes.
13. Heat oil in a deep frying pan over medium flame.
14. Deep fry the cutlets, one or two at a time, until golden brown.
15. Remove and serve with tomato ketchup.