Ragi Paniyaram or Ragi Kuzhi Paniyaram are small idli like spheres made with the combination of Ragi and dosa batter. Ragi, otherwise also known as Finger Millet, Kezhveragu (Tamil), Naachini (Marathi) is a lesser popular millet, but a powerhouse of nutrition – especially calcium and iron.
Traditionally, in many homes, Ragi has been favoured even higher than rice when it comes to infant and toddler nutrition simply because of the powerful tags it comes packed with – gluten free, high protein, high iron & calcium and its flour is whole grain, which means, it is milled along with the bran that contains fibre. On it own, it is quite bland, but has a hint of earthy taste to it. It makes a great meal on its own – ask your grandmas about Ragi Kazhi or Koozhu and they will have a satisfied grin on their face, just thinking about it.
It is quite versatile and can be combined with many other ingredients for various recipes. Ragi Roti makes a great alternative to wheat Roti. Kuzhi Paniyaram or idli fritters (a recently coined fancy name) is similar to idli, but lightly pan-fried and made with a special vessel. It is a popular dish for breakfast. Sometimes the sweet kuzhi paniyaram is also a handy snack. To this, we decided to add Ragi for a variation that is different from routine. The result: a Fantastic Ragi Paniyaram! Fermented, and mildly crispy spongy balls, with a slightly soured taste that is balanced by the light earthy taste of Ragi. Go on, try this out and let us know how you liked it.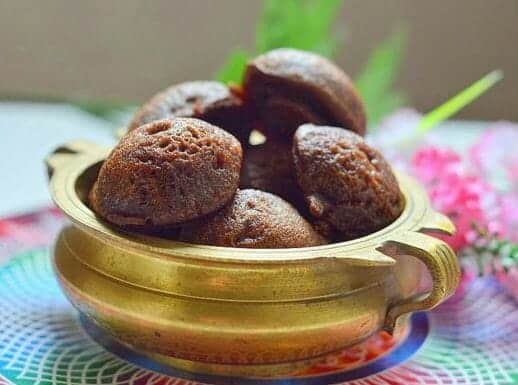 Ragi Paniyaram

Recipe

Ragi Paniyaram or Ragi Kuzhi Paniyaram are small idli like spheres made with the combination of Ragi and dosa batter.
Ingredients for
Ragi Paniyaram
2

cups

Dosa Batter

1/4

cup

Ragi Flour

1/2

cup

Onion

1/2

cup

Carrot

Grated

2

tsp

Green Chilli

chopped

3

tblsp

Coriander Leaves

2

tsp

Chana Dhal

1

tsp

Urad Dhal

Salt

to Taste

3

tsp

Oil

Curry Leaves

few

1

tsp

Asafoetida

1

tsp

Mustard Seeds
Special Equipment :
How to make
Ragi Paniyaram
Combine the dosa batter and ragi flour together, ensuring no lumps, and keep it aside.

Heat a pan/tempering vessel under medium flame.

Warm the oil and add mustard seeds when it heats up so it starts popping. Quickly add the curry leaves, asafoetida, green chillies, urad dhal, chana dhal and turn off the flame.

Pour the tempering in the dosa batter and mix well.

Add the raw onions, grated carrots, coriander leaves and required salt. Mix well and rest it for sometime.

Heat a paniyaram pan and grease with oil.

Pour some batter in the holes and cook on low - medium flame until it is golden brown below.

Use a spoon or skewer to flip over and cook the other side. If required, add some oil.

Remove from pan and serve hot with coconut chutney.