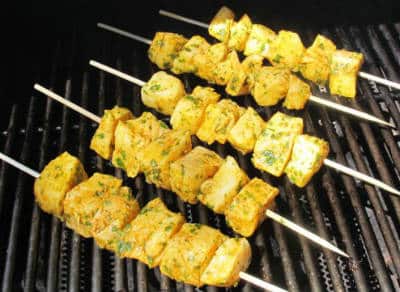 Ingredients:
Kingfish Fillets – 500 gms, cut into bite-sized cubes
Garam Masala Powder – 1 tsp
Garlic Paste – 1 tsp
Lemon Juice – 1 tblsp
Salt as per taste
Coriander Leaves – handful, finely chopped
Wooden Skewers – soaked in water for 30 minutes
Method:
1. Mix the garam masala powder, coriander leaves, salt, garlic paste and lemon juice in a bowl.
2. Brush this mixture all over the fish cubes ensuring they are evenly coated.
3. Keep aside in the fridge for 90 minutes.
4. Remove and skewer the fish cubes (4 to 5 per skewer).
5. Then place them on a preheated grill.
6. Grill for 10 to 15 minutes, turning them every now and then, till it has a light brown colour.
7. Remove and transfer to a serving plate.
8. Serve hot with mint chutney and salad of choice.