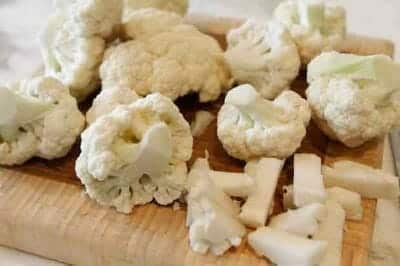 Ingredients:
Cauliflower – 250 gms, chopped
Maida – 1/4 cup
Corn Flour – 2 tblsp
Red Chilli Powder – 1/4 tsp
Salt – 1/4 tsp
Black Peppercorns – 1/4 tsp
Chaat Masala Powder – a pinnch
Red Chilli Flakes – a pinch
Mustard Powder – a pinch
Sesame Seeds – 2 to 3 tblsp
Oil as required
Method:
1. Heat a pan of salted water over medium flame.
2. Add the cauliflower pieces and cover with a lid.
3. Switch off flame and drain the water after 2 minutes.
4. Mix the maida, corn flour, red chilli powder, salt, peppercorns, chaat masala powder, mustard powder and red chilli flakes in a bowl.
5. Add enough water and mix to a batter of pouring consistency.
6. Heat oil in a deep frying pan.
7. Dip the cauliflower pieces in the batter and roll them in the sesame seeds.
8. Add them to the hot oil and fry till crisp and golden brown.
9. Remove and drain excess oil.
10. Serve hot with ketchup.