Khari Puri is a popular and delicious Gujarati teatime snack.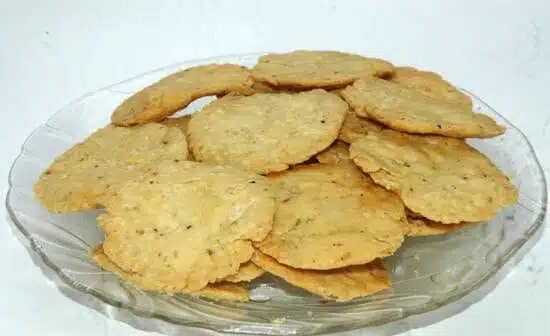 Ingredients:
Whole Wheat Flour – 1 1/2 cups
Chickpea Flour (or Gram Flour) – 1/4 cup
Coriander Powder – 1/4 cup
Red Chilli Powder – 2 tblsp
Coriander Seeds – 1 tsp
Cumin Seeds – 1 tsp
Turmeric Powder – 1/2 tsp
Garam Masala Powder – 1 tsp
Coriander Leaves – handful, chopped
Ghee – 1/4 cup, melted
Green Chillies – 3 to 5, chopped
Oil as required
Salt as per taste
Method:
1. Dry roast the cumin seeds and coriander powder for a minute.
2. Remove and grind them to a fine powder.
3. Combine the wheat flour, chickpea flour, coriander powder, red chilli powder, turmeric powder, salt, coriander leaves, cumin and coriander powder, garam masala powder, ghee and 1/2 cup of water in a large bowl.
4. Knead well to a stiff dough and cover with a damp cloth for 15 to 20 minutes.
5. Make small/medium balls of the dough and roll them out on a lightly greased surface.
6. Heat oil in a deep nonstick frying pan over medium flame.
7. Deep fry the prepared puris for 5 minutes or until golden brown on both sides.
8. Remove and drain excess oil.
9. Serve hot.