Adai is a close cousin to Dosa and is very popular in South India. This, Vegetable Adai, is a delicious & nutritious adai made with mixed vegetables. Serve with coconut chutney or avial for breakfast, lunch or dinner.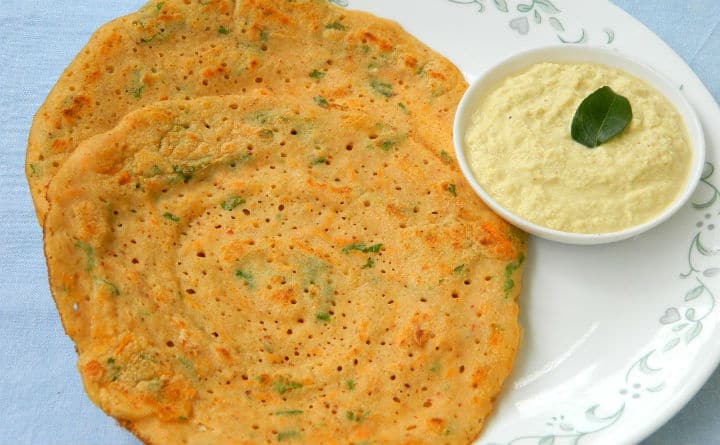 Ingredients:
Adai Batter – 1 cup
Grated Carrot – 1/2 cup
Onion – 1/2 cup
Spinach – 1/2 cup, Finely Chopped
Ginger – 1 tsp, Peeled and chopped
Garlic – 1 tsp, finely chopped
Green Chillies – 1 tsp
Cumin Powder – 1 tsp
Oil – as Required
Salt to Taste
For Adai Batter:
Rice – 1 cup
Toor Dhal – 1/4 cup
Chana Dhal – 1/4 cup
Red Chillies – 4
Urad Dhal – 2 tblsp
Moong Dhal – 1 tblsp
Curry Leaves – few
Asafoetida – little
Salt to Taste
Method:
To make the adai batter, take a bowl, add the rice, chana dhal, toor dhal, red chillies, curry leaves.
Wash them in water for 2 or 3 times.
Add the urad dhal, moong dhal and water.
Add water until all the lentils are soaked properly.
Rest it for 4 hours.
Take a blender and add all the soaked lentils along with asafoetida and salt.
Blend them to a coarse paste.
Adai batter is ready to cook.
Add the vegetables, ginger, garlic, green chillies, cumin powder, salt to the batter.
Mix them thoroughly using water.
Heat a tawa in medium flame.
Grease it with oil.
Pour the prepared batter and spread them gently.
Add oil/ghee in the edges.
Once cooked on one side, flip over and cook the other side.
Serve hot with any chutney or podi.