Beat the heat and cool down this summer with this easy to make and refreshing granita with pineapple and basil.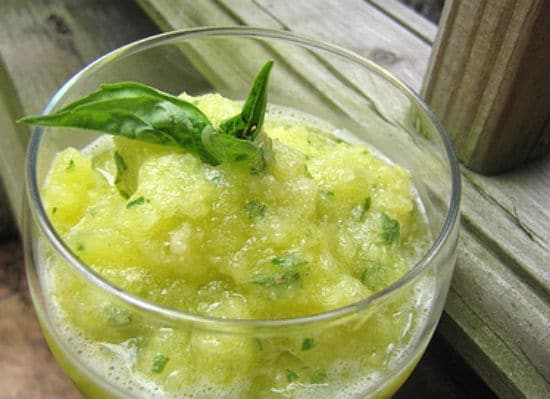 Ingredients:
Water – 2 cups
Sugar – 2 cups
Basil Leaves – 2 cups, cleaned, chopped
Pineapples – 1 kg, peeled, cored, chopped
Method:
1. Heat a pan over medium flame.
2. Add the sugar, water and basil leaves. Stir well.
3. Simmer until the sugar has fully dissolved.
4. Remove from flame and keep aside for 10 minutes.
5. Strain the syrup and keep it in the fridge for 1 or 2 hours.
6. Mix 3/4ths of this syrup with the pineapples and blend until smooth.
7. Add more syrup if you need it more sweet.
8. Strain this blended mixture into a freezer safe bowl and keep it in the freezer for 4 to 7 hours.
9. Using a fork, break the granita to form icy crystals.
10. Put it back into the freezer and repeat 4 to 5 times every 30 minutes.
11. Scoop the granita into serving cups.
12. Garnish with basil leaves and serve at once.
image via the bored vegetarian