Savor the refreshing blend of strawberries and bananas in this creamy Strawberry Banana Smoothie - a delightful and nutritious treat that will brighten your day.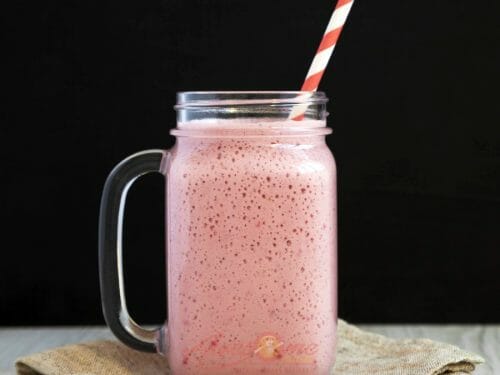 Indulge in the delightful combination of strawberries and bananas with this refreshing Strawberry Banana Smoothie. Packed with vibrant flavours and creamy textures, this smoothie is a refreshing treat to brighten your day.
The luscious sweetness of ripe strawberries pairs harmoniously with the creamy richness of bananas, creating a satisfying and nourishing smoothie. Each sip is bursting with the natural goodness of fresh fruits, making it a delightful choice for breakfast, a snack, or even a post-workout refresher.
This Strawberry Banana Smoothie is delicious and packed with nutritional benefits. Strawberries are known for their high vitamin C content and antioxidants, while bananas offer potassium and fibre. Blended, they create a smoothie that is not only a delight to your taste buds but also boosts essential nutrients.
Whether you're a smoothie enthusiast or new to blended beverages, this Strawberry Banana Smoothie is a must-try. It's a versatile recipe that can be customized by adding a splash of yoghurt, a drizzle of honey, or a handful of spinach for an extra nutritional boost. Enjoy it as a standalone drink, or pair it with your favourite breakfast items or light snacks for a complete and satisfying meal.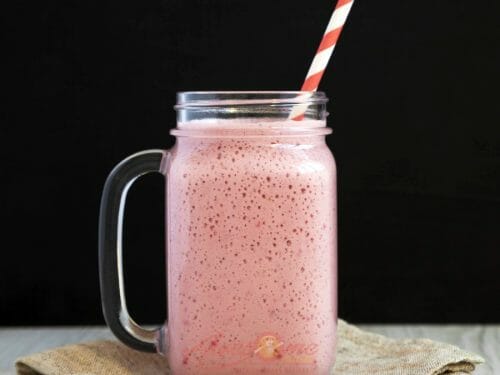 Strawberry Banana Smoothie
Savor the refreshing blend of strawberries and bananas in this creamy Strawberry Banana Smoothie - a delightful and nutritious treat that will brighten your day.
Ingredients
2

cup

Strawberries

1

Banana

large

1

cup

Orange Juice

1/4

cup

Plain Yogurt

1

scoop

Vanilla Ice Cream
Instructions
Wash, hull and slice the strawberries into small pieces.

Peel and chop the banana into small rounds.

Combine them in a blender.

Add the orange juice and blend for 30 to 45 seconds.

Add the yogurt and vanilla ice cream.

Blend for another 30 seconds.

Keep it in the fridge for 1 hour or pour into individual serving glasses with 2 to 3 ice cubes.

Serve chilled.
Frequently Asked Questions (FAQ) – Strawberry Banana Smoothie
Can I use frozen strawberries and bananas for this smoothie?
Frozen fruits are an excellent option for this Strawberry Banana Smoothie. Not only does it provide a chilled and refreshing texture, but it also eliminates the need for ice cubes that can dilute the flavour. Substitute fresh strawberries and bananas with frozen ones in the exact quantities mentioned in the recipe. You can keep a bag of frozen fruits in your freezer for a quick and convenient smoothie anytime.
Can I add other ingredients to customize the smoothie?
Definitely! The beauty of the Strawberry Banana Smoothie is its versatility. You can personalize it to your taste preferences by adding various ingredients. For an extra creamy texture, consider adding a dollop of Greek yoghurt or a splash of almond milk. If you prefer a touch of sweetness, a drizzle of honey or a few dates can do the trick. Try adding a handful of spinach or a scoop of protein powder for a nutritional boost. Feel free to experiment and create your perfect blend.
Can I make this smoothie ahead of time and store it?
While it's best to enjoy the Strawberry Banana Smoothie fresh, you can make it ahead of time and store it in the refrigerator for a few hours. However, remember that the texture may change slightly as it sits, especially using ingredients like yoghurt or milk. To prevent separation, give the stored smoothie a good stir before consuming. Consuming it within 24 hours is recommended for the best flavour and quality.
Can I use alternative fruits instead of strawberries and bananas?
Absolutely! The Strawberry Banana Smoothie recipe is an excellent base for experimenting with different fruits. For a different flavour profile, you can swap the strawberries with other berries like blueberries or raspberries. As for bananas, you can substitute them with fruits like mangoes or peaches for a tropical twist. Feel free to get creative and use your favourite fruits to create your unique version of this delicious smoothie.