A simple and great snack for any occasion. These make a super easy evening snack or a late-night movie munchies.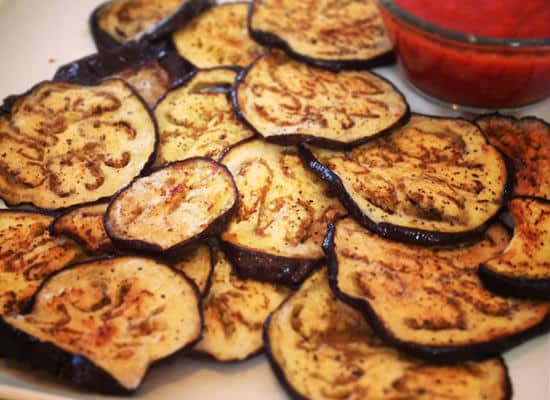 Ingredients:
Eggplants (Aubergines/Brinjals) – 4, medium
Oil – 1/4 cup
Red Chilli Flakes – 1 tblsp
Red Chilli Powder – 2 tsp (Substitute with 1 tsp Black Pepper Powder if desired)
Salt – 1 tsp
Plain Flour – 1/3 cup
Garlic Powder – 1/2 tsp
Method:
1. Wash, pat dry and slice the eggplants into thin slices.
2. Mix plain flour, red chilli flakes, salt, red chilli powder and garlic powder in a bowl.
3. Add the sliced eggplants and mix well. Add little water if required.
4. Ensure the eggplants are coated well.
5. Heat oil in a nonstick pan over medium flame.
6. Shake off any excess flour and fry the eggplants, in batches, until golden brown and crisp.
7. Remove and drain excess oil.
8. Serve as a snack with tomato ketchup or any dipping sauce of choice..
Tip: Add more oil if required.