A simple, delicious and healthy fajitas with roasted chickpeas, tomatoes, onions, mushrooms and red capsicums.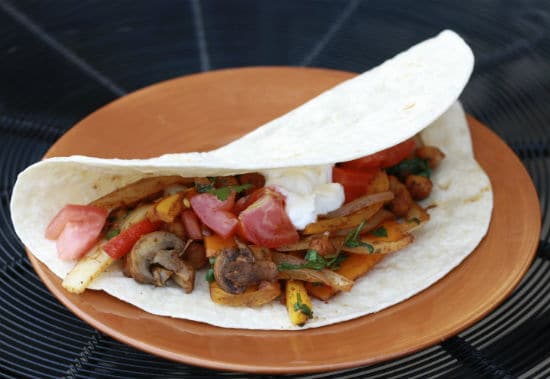 Ingredients:
Dry White Chickpeas – 200 gms, soaked in water for 6 to 8 hours or overnight
Tomato – 1, deseeded, chopped
Onion – 1, small, finely chopped
Red Wine Vinegar – 3 tsp
Avocado – 1, stoned, peeled (optional)
Red Capsicum – 1, small, seeds removed, sliced (optional)
Button Mushrooms – 1/4 cup, sliced (optional)
Juice of 1/2 Lemon
Lemon Wedges – few
Sour Cream – 1/4 cup
Tortillas – 2 to 3
Oil – 1/2 tblsp
Red Chilli powder – a small pinch
Coriander Leaves – few, chopped
Red Chilli Sauce – 1 tsp
Sea Salt – little
Cumin Powder – a small pinch
Method:
1. Drain the chickpeas and rinse well.
2. Heat oil in a pan over medium flame.
3. Add the red chilli powder, cumin powder, sea salt and the chickpeas.
4. Cook until the chickpeas are crisp and browned on low flame for 15 to 20 minutes, stirring from time to time.
5. Mix the tomatoes, onion, vinegar, capsicums, mushrooms in a bowl and keep aside.
6. Mash the avocado (if using) in a bowl.
7. Add lime juice and mix well.
8. Mix the sour cream and red chilli sauce in a bowl.
9. Warm the tortillas in a tawa and place them on a flat surface.
10. Spread the red chilli paste on the tortillas.
11. Top up with the chickpeas, avocado mash, onions and tomatoes mixture.
12. Garnish with coriander leaves.
13. Serve with lime wedges.