A quick and easy way to make enchilada sauce at home.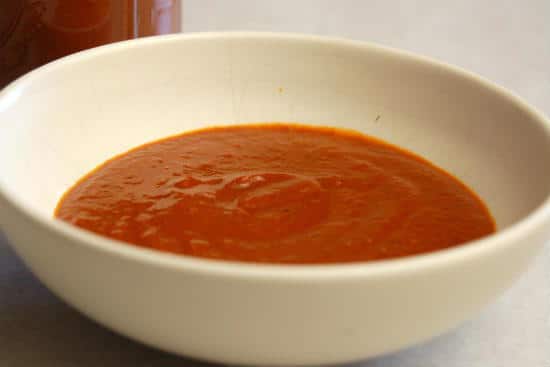 Ingredients:
Tomato Paste – 1/4 cup
Sunflower Oil – 1 1/2 tblsp
Maida (Plain Flour) – 1 1/2 tsp
Red Chilli Powder – 3 tsp
Garlic Powder – 1/2 tsp
Cumin Powder – 1/2 tsp
Vegetable Stock – 1 1/4 cups
Dried Oregano – 1/2 tsp
Sea Salt as per taste
Method:
1. Heat oil in a pan over medium flame.
2. Add the flour and whisk well until lightly browned.
3. Add the chilli powder, garlic powder and cumin powder.
4. Whisk well.
5. Pour the stock.
6. Add the tomato paste, oregano and sprinkle some salt.
7. Mix well and simmer for sometime.
8. Keep stirring from time to time.
9. When it is slightly thick and smooth, switch off the flame.
10. Store it in a clean and airtight container.
11. Stays for upto 4 days if kept in the fridge.
Subscribe to our Newsletter
Receive the latest recipes & kitchen tips !