Pasta Carbonara is a delicious and easy to make dish with pasta, bacon, eggs and cheese. Perfect for lunch, dinner or sunday brunch, this dish is best served with garlic bread.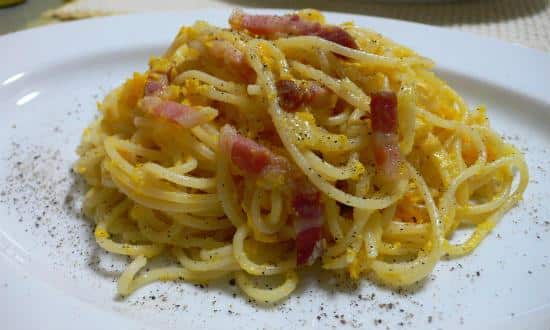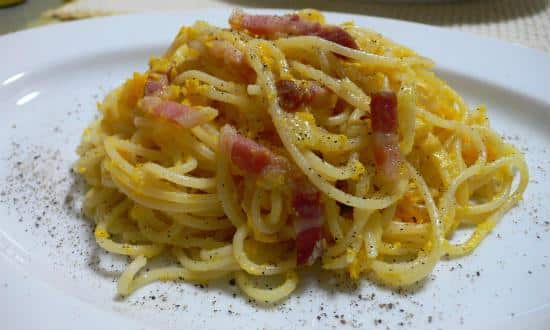 Ingredients:
Pasta – 225 gms (spaghetti or linguine or any other variety)
Bacon – 100 gms, cut into strips
Peas – 1/4 cup, shelled
Eggs – 2, lightly beaten
Parmesan Cheese – 3/4 cup, grated
Salt as per taste
Black Pepper Powder as per taste
Method:
1. Cook the pasta as per packet instructions and keep aside.
2. Reserve 1/2 cup of the water.
3. Heat a pan over medium flame.
4. Add the bacon and cook until slightly crisy.
5. Switch off the flame and remove the bacon. Drain on paper towels.
6. Add the eggs and cheese to the pan (with the bacon fat, removing any excess) and place it over low-medium flame.
7. Whisk together.
8. Add the past and peas.
9. Stir well until pasta is well coated with the sauce.
10. Pour the reserved water and simmer until pasta is fully cooked and water has been absorbed or evaporated.
11. Add the bacon to the pasta.
12. Sprinkle salt and pepper powder on top.
13. Stir gently and serve at once.