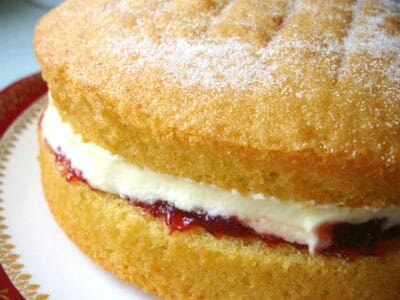 Ingredients:
Maida – 100 gms
Butter – 100 gms + extra
Caster Sugar – 100 gms
Baking Powder – 1/2 tsp
Eggs – 2
Milk 1 tblsp
Strawberry Jam – 50 gms
Icing Sugar as required
Method:
1. Sift the flour and baking powder into a bowl.
2. Add the butter, eggs, sugar and milk.
3. Beat well until smooth.
4. Pour the mixture into 2 10cm non-stick, round tins lined with parchment paper.
5. Bake in a preheated oven at 180C for 20 minutes until cooked and golden.
6. Insert a skewer in the middle, if it comes out clean then the cake is done.
7. Remove the cakes from the tin and cool.
8. To serve, serve as it is or spread jam on one cake and place the other on top.
9. Sprinkle icing sugar on top.
10. Serve.
Tip: If desired, spread cream on the other cake.