Chilli Chicken is a very popular Indo-Chinese dish often served as a starter or as an accompaniment to a main dish.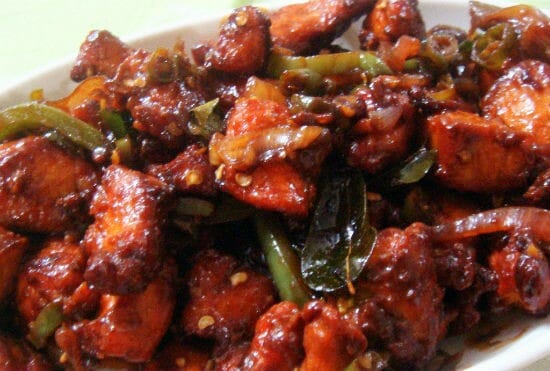 Ingredients:
Chicken – 500 gms
Capsicum – 2, medium, diced
Green Chillies – 4 to 5, chopped
Garlic – 4 cloves, chopped
Shallots (Sambar Onions) – 20, chopped
Soy Sauce – 2 tsp
Chilli Sauce – 2 tsp
Tomato Sauce – 2 tsp
Butter – 4 tsp
Salt as per taste
Spring Onions – few, chopped, to garnish
Method:
1. Cook the chicken and cut them into bite-sized pieces. Keep aside.
2. Heat butter in a pan over medium flame.
3. Add the garlic and saute for 30 seconds.
4. Add onions, capsicum, green chillies and saute for a minute.
5. Add the soy sauce, tomato sauce and chilli sauce.
6. Mix well.
7. Add chicken pieces and mix well.
8. Add salt as per taste.
9. Mix well.
10. Garnish with spring onions.
11. Serve as a starter or with any rice item.