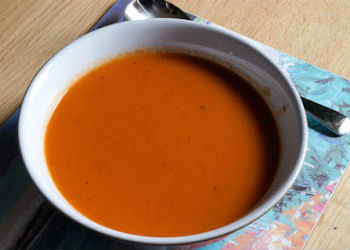 Ingredients:
Tomatoes – 250 gms, chopped
Carrot – 100 gms, chopped
Black Pepper Powder – 1/4 tsp
Water as required
Salt as per taste
Sugar – 1 tsp (optional)
For garnish:
Cream
Grated Carrot

Method:
1. Add the carrots and tomatoes to a pan over medium flame.
2. Pour 1 cup of water and add salt to taste.
3. Half-cover the pan and bring to a boil.
4. Reduce flame and simmer till the tomatoes and carrots are completely cooked.
5. Remove and cool.
6. Then pass through a strainer or blend well to a puree.
7. Strain and add water to make it 4 1/2 to 5 cups.
8. Place it in a pan and bring to a boil.
9. Add sugar and pepper powder.
10. Simmer for 10 minutes and remove.
11. Transfer to a serving bowl.
12. Garnish with grated carrot and cream.
13. Serve.
image credit: farmersgirl.blogspot.com