A healthy and easy way to get kids to eat spinach.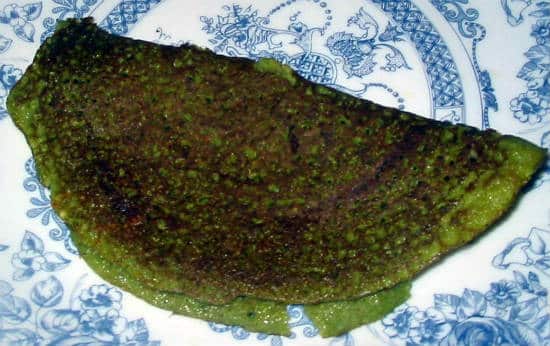 Ingredients:
Parboiled Rice – 1 cup
Raw Rice – 1 cup
Urad Dal – 1/4 cup
Spinach (Palak) – 1 cup, chopped
Green Chillies – 3, ground to a paste
Cumin Seeds – 1 tsp
Oil as required
Salt as per taste
Method:
1. Soak the parboiled, raw rice and urad dal, separarely, for 2 hours.
2. Grind them separately until smooth and combine together.
3. Add salt and mix well.
4. Blanch the spinach leaves and grind to a smooth paste.
5. Add the ground spinach, green chilli paste and cumin seeds to the batter.
6. Mix well.
7. Heat a tawa over medium flame.
8. Pour a ladleful of the batter and spread evenly.
9. Add oil around the edges and cook on both sides.
10. Remove and serve hot with chutney and sambar or will pickle.