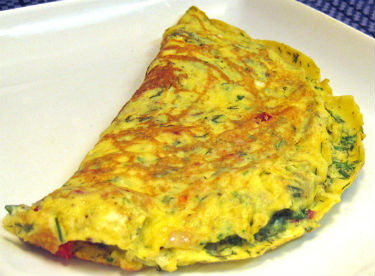 Ingredients:
Cherry Tomatoes – 1 cup, halved
Extra Virgin Olive Oil – 1 tsp
Garlic Salt – 1/2 tsp
Parsley – 1 tblsp
Eggs – 2 to 3
Cream – 1 tblsp
Sea Salt – a pinch
Butter – 1 tsp, unsalted
Cheddar Cheese – 2 tblsp, shredded
Basil Leaves – 1/8 cup
Black Pepper Powder – a pinch

Method:
1. Spread the tomatoes on a baking sheet.
2. Drizzle olive oil and sprinkle garlic salt on top.
3. Sprinkle parsley and toss well to coat evenly.
4. Spread them evenly and bake in a preheated oven at 350F till dried and shriveled at the edges, approximately 30 minutes.
5. Remove and allow it to cool.
6. Meanwhile, whisk the eggs, cream and salt.
7. Heat 1/2 tsp of butter in a pan over moderate flame.
8. Add half of the egg mixture and tilt the pan so the mixture covers the bottom.
9. When it starts to set reduce the heat.
10.Using a wooden spatula lift and push the eggs to the centre of the pan.
11. When the omelette is set, put a handful of the roasted tomatoes on one-third of the omelette.
12. Sprinkle half of the cheese and basil leaves on top the tomatoes.
13. Fold the omelette into a half moon shape and transfer to a plate.
14. Garnish with basil and pepper powder.
15. Serve hot or warm.
Tip: You can also use sun-dried tomatoes.