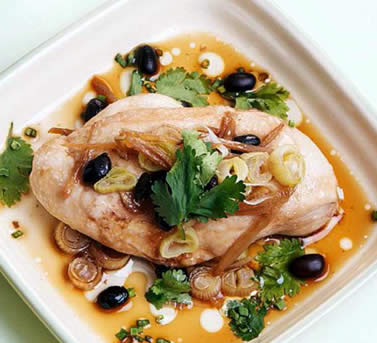 Ingredients:
Chicken Breast Fillets – 2
Leek – 1 stalk, sliced
Black Beans – 1/2 tblsp, fermented, chopped
Chinese Rice Wine – 1 tsp
Soy Sauce – 1 tsp
Oil – 1 tsp
Sesame Oil – 1/2 tsp
Sugar – 1/4 tsp
Ginger – 1/2 tblsp, finely sliced
Coriander Leaves – few, chopped
Spring Onions – few, chopped
Method:
1. Combine the beans, rice wine, soy sauce, oil, sesame oil and sugar in a bowl.
2. Rub this all over the chicken and keep aside for 20 to 30 minutes to marinate.
3. Arrange half of the ginger and leeks on a foil.
4. Place the marinated chicken on top and pour the marinade over.
5. Add the remaining leeks and ginger on top.
6. Fold the sides of the foil to make a rectangle shape.
7. Steam cook the chicken for 10 to 12 minutes.
8. Remove and transfer to a plate.
9. Garnish with spring onions and coriander leaves.
10. Serve hot with rice.
recipe inspired by a magazine article.