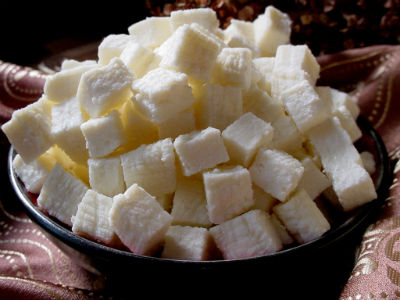 Ingredients:
Paneer – 100 gms, cut into small pieces
Onion – 1, big, finely chopped
Tomato – 1, finely chopped
Green Chillies – 3, finely chopped
Mint Leaves – handful, chopped
Coriander Leaves – handful, chopped
Gasa Gasa – 1/2 tsp
Curd as required
Salt as per taste
Butter as required
Oil as required
Method:
1. Heat little oil in a pan over medium flame.
2. Saute onions, tomatoes and green chillies for a minute or two.
3. Add the mint leaves, coriander leaves and gasa gasa.
4. Add a little curd and grind them all together to a smooth paste.
5. Heat a little butter in a pan over medium flame.
6. Add the ground paste, little water and salt.
7. Simmer for a few minutes.
8. Add the paneer pieces and stir to mix well.
9. Cook for a minute.
10. Remove and serve as a side dish.
image credit: www.flickr.com/photos/85934826@N00/5187544103/