Bonda is a typical South Indian snack item. Serve as a tea time snack or evening appetizer.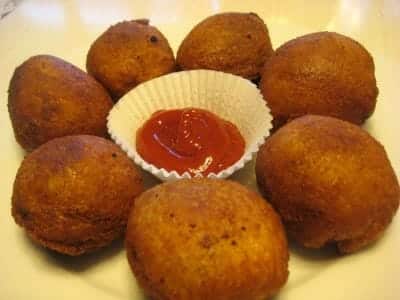 Ingredients:
Curd – 1 1/2 cups
Maida – 2 cups
Asafoetida Powder – 1/4 tsp
Salt as per taste
Cumin Seeds – 1 tsp
Ginger – 1 inch piece, finely chopped
Green Chillies – 3 to 4, finely chopped
Cashewnuts – 15 to 20, broken
Oil for frying
Method:
1. Beat the curd gently and transfer to a large bowl.
2. Add maida, asafoetida powder, salt, cumin seeds, ginger, green chillies and cashew nuts.
3. Mix well until slightly thick.
4. Heat oil in a deep frying pan.
5. Drop small balls of the dough and deep fry until light golden brown.
6. Remove and drain excess oil.
7. Serve hot with chutney.
Subscribe to our Newsletter
Receive the latest recipes & kitchen tips !