A satisfying and delicious salad for lunch/dinner. Add vegetables of choice.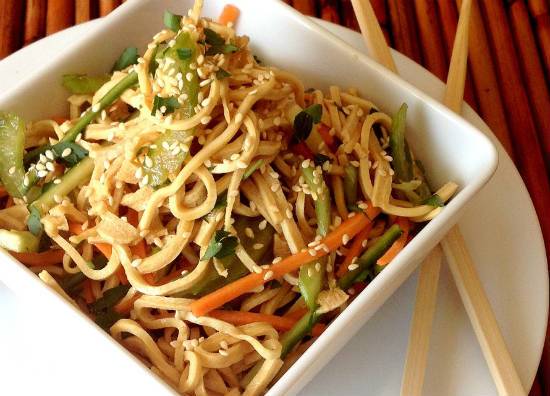 Ingredients:
Capscium – 1, chopped, seeds removed
Carrot – 1, peeled, slced or finely chopped
Ginger Garlic Paste – 1 tblsp
Plain Tofu – 125 gms, cubed
Plain Noodles – 125 gms, cooked as per packet instructions
Dark Soy Sauce – 3 tsp
Spring Onions – handful, sliced
Coriander Leaves – handful, chopped
Sesame Seeds – 1 tsp, toasted
Oil as required
For the Dressing:
Lime Peel – 1
Rice Wine Vinegar – 1/3 cup
Red Chilli – 1, chopped
Sugar – 1 tsp
Method:
1. Mix all the dressing ingredients in a pan.
2. Place it over medium flame and bring to a boil
3. Keep aside for 10 minutes and transfer to a bowl.
4. Heat little oil in a pan over medium flame.
5. Saute the capsicums and carrots for a minute.
6. Add ginger garlic paste and stir-fry for a minute.
7. Remove and transfer to a large bowl.
8. Add some more oil to the pan and add the tofu.
9. Cook for a minute and add the reserved vegetables.
10. Add the cooked noodles.
11. Add the soy sauce, spring onions, dressing and mix well.
12. Garnish with coriander leaves and sesame seeds.
13. Serve.