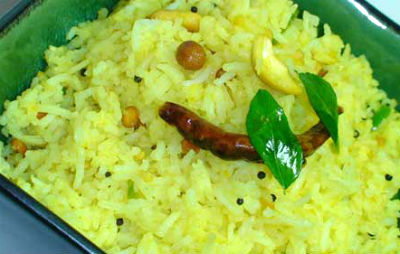 Ingredients:
Pachai Arisi (extra long-grained rice) – 1 cup, cooked and set aside to cool
Lemon Juice – 1/4 cup
Salt – 1 tsp
Turmeric Powder – 1/4 tsp
Green Chillies – 2, finely chopped
Fresh Ginger – 1 tblsp, minced
Peanuts – 3 tblsp, roasted
For the Tempering:
Oil – 2 tblsp
Red Chilli – 1, dried
Asafoetida Powder – 1/4 tsp
Curry Leaves – 3
Black Mustard Seeds – 1 tsp
Urad Dal – 1 tsp
Chana Dal – 1 tsp
Method:
1. Combine the lemon juice, salt and turmeric powder in a bowl.
2. Set aside.
3. Put the oil in a frying pan over medium heat.
4. When the oil is hot add the red chilli, asafoetida powder and curry leaves.
5. Stir in the mustard seeds, urad dal and chana dal.
6. Fry till mustard seeds splutter and the dals are golden for about 30 seconds.
7. Add the cooked rice.
8. Stir in the lemon juice mix.
9. Let it simmer for a few minutes.
10. Remove from heat.
11. Add green chillies, ginger and peanuts.
12. Toss gently for the ingredients to blend and serve.
image credit: a-1 samaiyal